Combination therapy in Schizophrenia increases risk for diabetes: GOMAP Study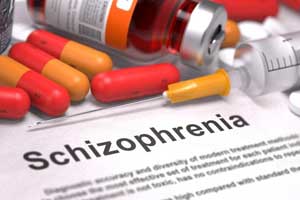 The patients with schizophrenia (SCZ) who take a combination of at least three different psychotropic medication classes are at increased risk of type 2 diabetes (T2D) compared to patients whose medication consists only of one or two classes of drugs, according to a new study published in the BMC Psychiatry.
Given the association of SCZ with an increased risk of T2D, Vasiliki Mamakou, Dromokaiteio Psychiatric Hospital, Athens, Greece, and colleagues undertook the Genetic Overlap between Metabolic and Psychiatric disease (GOMAP) study to assess the effect of pharmacological, anthropometric, lifestyle and clinical measurements, helping elucidate the mechanisms underlying the etiology of T2D.
For the study, the researcher team enrolled 1653 patients with SCZ; 611 with T2D and 1042 patients without T2D. Detailed information on first- and second-generation antipsychotics (FGA, SGA), antidepressants and mood stabilizers, applied as monotherapy, 2-drug combination, or as 3- or more drug combination were retrieved. The effects of psychotropic medication, body mass index, duration of schizophrenia, number of hospitalizations and physical activity on risk of T2D was then assessed. Using logistic regression, crude and adjusted odds ratios (OR) were calculated to identify associations between demographic factors and the psychiatric medications.
Also Read: Mental illness patients at higher risk of Diabetes
Key Findings:


Patients with SCZ on a combination of at least three different classes of psychiatric drugs had a higher risk of T2D [OR 1.81 (95% CI 1.22–2.69); p = 0.003] compared to FGA alone therapy, after adjustment for age, BMI, sex, duration of SCZ and number of hospitalizations.


No evidence was found for an association of SGA use or the combination of drugs belonging to two different classes of psychiatric medications with an increased risk of T2D [1.27 (0.84–1.93), p = 0.259 and 0.98 (0.71–1.35), p = 0.885, respectively] compared to FGA use.


"Our findings indicate that a triple-drug combination therapy for patients with SCZ is associated with increased risk of T2D compared with treatment involving FGA. Future studies should explore the research hypothesis that maximization of monotherapy doses or switch to a different antipsychotic class may be associated with decreased diabetogenic effect as compared with the addition of multiple antipsychotic medications," concluded the authors.
For more information follow the link:
https://doi.org/10.1186/s12888-018-1826-4
Source : With inputs from BMC Psychiatry