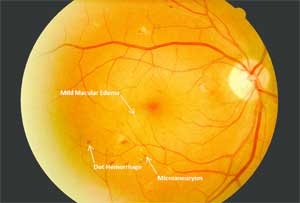 A new study presented at the 18th Congress of the European Society of Retina Specialists (EURETINA) showed that the long-term steroid fluocinolone acetonide intravitreal insert is effective in managing diabetic macular edema (DME) in both vitrectomized and non-vitrectomized eyes.
Albert Augustin, MD, and presenter of the study said that fluocinolone acetonide can be used in vitrectomized eyes without loss of efficacy or a reduced duration of the treatment modality.
The researchers retrospectively analyzed data from 63 diabetic patients (81 eyes) who had been diagnosed with DME and treated with a fluocinolone acetonide using the ILUVIEN 190 mcg intravitreal implant in the applicator, a product approved for use in Europe that delivers sustained multiyear sub-microgram levels of fluocinolone acetonide. Out of the total study participants,39 patients had previously undergone a pars plana vitrectomy (PPV).
The average age of the patients included in the study was 67.2 ± 10 years for patients in the PPV group and 68.8 ± 10.8 years in the non-PPV group. Mean duration of DME for patients in the PPV group was 4.6 ± 2.48 years in the PPV group and 3.2 ± 3.2 years in the non-PPV group.
The patients were assessed for efficacy outcomes, including visual acuity and central macular thickness, and safety outcomes, including intraocular pressure (IOP), at baseline and after 3 years of follow up.
Read Also; First AI based medical device to detect diabetic retinopathy approved
Key study findings:
The visual acuity, measured using ETDRS letters, improved by 5.4 letters (30 months) or 2.7 letters (36 months)
Subgroup analysis showed that PPV eyes improved by 1.4 letters (30 months) or 2.1 letters (36 months) letters, whereas non-PPV eyes improved by 2.9 letters (30 months) or 4.1 letters (36 months).
The fluocinolone acetonide implant produced an improvement in central macular thickness among all included patients of 143 μm at 30 months and 158 μm at 36 months.
In a subgroup analysis, changes in thickness were 125 μm at 30 months and 176 μm at 36 months in PPV eyes and 160 μm at 30 months and 137 μm at 36 months in non-PPV eyes.
Explaining the difference in safety outcome represented by the additional use of IOP-lowering medications among patients with PPV eyes, Dr. Augustin said that vitrectomized eyes are usually eyes with a more severe alteration of the retina. In addition, those patients are also suffering from a more advanced stage of diabetes mellitus, systemic alterations.

Dr. Augustin noted that it "was really surprising that PPV eyes respond very well to this long-acting steroid, showing that a long-term anti-inflammatory strategy is needed in those patients." He added that anti-inflammatory therapy "should be introduced earlier in the treatment of DME."
According to Dr. Augustin, long-term therapy with fluocinolone acetonide even given as a very late second-line treatment has a more pronounced effect on patients' vision and central retinal thickness with fewer interventions over 3 years.
Follow up care can often be complicated as patients with diabetes and DME often have multiple comorbidities. So, a long-term treatment such as a fluocinolone acetonide implant "offers a big advantage for patients already needing many visits in clinics and practices.
"The burden of treatment for these diabetic patients with DME is markedly reduced with a long-term steroid therapy," concluded Dr. Augustin.