FDA approves once-daily, inhalation solution for COPD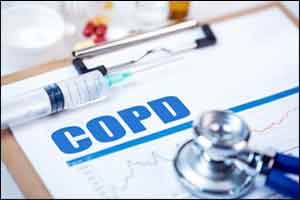 The U.S. Food and Drug Administration (FDA) has approved the New Drug Application (NDA) for YUPELRI (revefenacin) inhalation solution for the maintenance treatment of patients with chronic obstructive pulmonary disease (COPD), announced Theravance and Mylan Pharma.
Yupelri is a long-acting muscarinic antagonist (LAMA); bronchodilation following inhalation of revefenacin is predominantly a site-specific effect. The product is intended for once-daily inhalation by a standard jet nebulizer connected to an air compressor.
Read Also: Revefenacin has acceptable cardiovascular safety in COPD
"Long-acting muscarinic antagonists are recognized by international COPD treatment guidelines as a cornerstone first-line therapy for COPD, regardless of the severity of the disease. To date, however, there have been no once-daily nebulized options available to patients or to prescribers. We believe that YUPELRI, discovered and characterized in our laboratories, is well positioned to address this need. With this approval, COPD patients who require or prefer nebulized therapy can access a once-daily nebulized bronchodilator for the first time," said Rick E Winningham, chairman, and chief executive officer of Theravance Biopharma.
Yupelri bagged the approval after the positive results of the two replicate pivotal Phase 3 efficacy studies, Yupelri demonstrated statistically significant and clinically meaningful improvements as compared to placebo in trough forced expiratory volume in one second (FEV1) and an overall treatment effect on trough FEV1 (OTE FEV1) after 12 weeks of dosing).
Yupelri should not be used in acutely deteriorating COPD or to treat acute symptoms. Its use should be discontinued if paradoxical bronchospasm occurs.
Read Also: Targeted lung denervation new safe treatment for COPD
"The approval of YUPELRI represents a key milestone in advancing and expanding our scientific expertise regarding respiratory care. YUPELRI provides COPD patients with access to a nebulized LAMA therapy that offers consistent 24-hour lung function improvement with the convenience of once-daily dosing delivered through any standard jet nebulizer," said Mylan President Rajiv Malik.
The most commonly reported adverse events, across both trials and across all treatment groups, were a cough, nasopharyngitis, upper respiratory tract infection, headache, and back pain.
Yupelri will be available as a 175mcg/3mL solution in unit-dose vials packaged in 30-count cartons
Source : press release