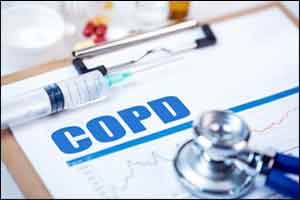 Revefenacin, a once-daily lung selective muscarinic receptor antagonist for nebulization does not prolong QT interval and offers an acceptable 52 weeks cardiovascular safety profile for the treatment of chronic obstructive pulmonary disease (COPD), reports a study presented at the CHEST Annual Meeting held in San Antonio, Texas.
People with COPD generally suffer from cardiovascular disease. keeping this in mind the researchers analyzed cardiovascular safety data from 3 randomized trials of revefenacin as well as data from a thorough QT study in healthy individuals.
Read Also:Targeted lung denervation new safe treatment for COPD
Healthy individuals received once-daily therapeutic (175 μg) and supratherapeutic (700 μg) revefenacin doses in phase 1, placebo-controlled study (n=48). The researchers assessed the association between daily revefenacin treatment at 88 μg and 175 μg with cardiovascular safety in patients with moderate to very severe COPD in 2 identical 12 weeks phase 3 trial  (n=619 and n=611). An active-controlled phase 3 safety trial of 52 weeks' duration was also included in the analysis (n=699). Prespecified major cardiovascular adverse events (MACE) were evaluated in all patients with COPD receiving treatment.
Key study findings included:
There was no clinically meaningful effect of single-dose revefenacin on cardiac repolarization in healthy individuals.
Additionally, in the 52-week trial, the investigators observed no changes in 12-lead electrocardiographic recordings associated with daily doses of revefenacin 88 μg and 175 μg in patients with COPD.
Additionally, the incidences of prolonged cardiac repolarization in the 52-week trial were similar between the revefenacin 175 μg (7.7%) and tiotropium (7.3%) groups.
Treatment with revefenacin 175 μg and 700 μg in single doses did not result in any cardiovascular-related treatment-emergent adverse events in healthy individuals.
Following adjudication by a clinical endpoint committee, the researchers identified 4 MACE in the 12-week study, with 2, 1, and 1 MACE in the 88-μg revefenacin, 175-μg revefenacin, and placebo groups, respectively.
In addition, a total of 26 MACE were recorded in the 52-week trial, all of which were reported in the treatment groups. Of these, only 1 (atrial fibrillation) was thought to be related to revefenacin.
Read Also: Oxygen therapy could prevent dementia in COPD patients
The study concluded that revefenacin for nebulization does not prolong QT interval and no increased risk for MACE was identified in clinical trials up to 1 year in duration.
For reference log on to https://doi.org/10.1016/j.chest.2018.08.664