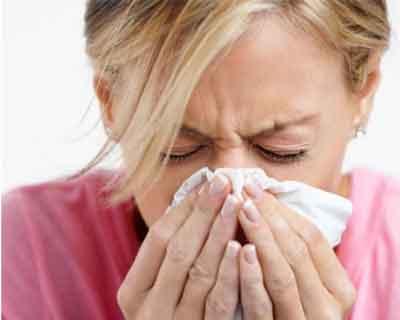 A new study published in the journal The BMJ reports that decongestants should not be given to children under 6 years of age and be given with caution in children under 12  as there is no evidence that they alleviate symptoms of common cold such as a blocked or a runny nose, and their safety is unclear.
Instead, they advise doctors to reassure patients that a cold is distressing but symptoms should pass in a few days.
Read Also: Exercise and meditation appear to reduce common colds and flu
Children have around 6-8 colds per year and adults have 2-4. Many over-the-counter (OTC) treatments for the common cold claim to alleviate nasal symptoms, such as congestion, rhinorrhoea (a runny nose), and sneezing. Evidence for the effectiveness of these treatments is limited and of low quality, and clear guidance is lacking. Long-term use of nasal decongestants is known to lead to chronic nasal congestion.
The investigators searched the data from Cochrane reviews on treatments such as decongestants, antihistamines, analgesics, intranasal corticosteroids, herbal remedies, and vitamins and minerals (zinc) in adults with a common cold. Commonly reported primary outcomes in the included studies are nasal resistance measures or outcomes such as clinical cure or composite symptom scores.
Reviews:
A Cochrane review(four randomized controlled trials, 1466 participants) shows that sedating antihistamines are associated with relief of rhinorrhoea and sneezing compared with placebo, but not nasal congestion.
Studies with non-sedating antihistamines show an unclear effect on congestion and no effect on rhinorrhoea or sneezing and no increased risk of adverse events compared with placebo.
A Cochrane meta-analysis showed no effect of antibiotics on nasal symptoms, but the risk of adverse events was increased. Evidence does not exist for the effectiveness of antivirals, and intranasal corticosteroids for nasal symptoms in the common cold, and their use is not recommended.
Acetaminophen/paracetamol and NSAIDs are sometimes prescribed for pain relief in common cold, but they do not appear to improve nasal congestion or rhinorrhoea.
Low-quality evidence suggests intranasal ipratropium bromide reduces rhinorrhoea compared with placebo, but not nasal congestion. Nosebleeds, nasal dryness and dry mouth are side effects.
A Cochrane review found low-quality evidence that saline irrigations or drops may be effective and safe in young children.
A Cochrane review comparing oral or intranasal decongestants with placebo found that 3-4 doses per day (over 5 days and up to 10 days) was associated with reduced severity of nasal congestion. Short-term adverse events were no different between decongestants and placebo.
Low-quality evidence finds that intranasal ipratropium bromide reduces rhinorrhoea compared with placebo, but not nasal congestion, however, there is an increased risk of nosebleeds, nasal dryness, and dry mouth.
A Cochrane review concludes that saline irrigations are not likely to be effective in adults.
Other treatments, such as steam inhalation, echinacea, vapor rub, eucalyptus oil, and increased fluid intake, are either not effective or have not been studied at all.
For adults with bothersome nasal symptoms, decongestants and antihistamines in monotherapy or in combination products are the best choices but the effect is small and although the adverse events are usually mild, some—such as sedation—can be aggravating. No evidence suggests that a tablet is taken orally or a nasal spray is more effective.
Read Also: Larger the vitamin C doses, greater the cut in common cold duration
"The common cold is self-limiting and symptoms usually clear within 7 to 10 days. Explain to patients that there are no "magic bullets" to relieve their symptoms and that very few OTC treatments are supported by evidence," write the authors.
The authors do not recommend decongestant or formulations containing antihistamine in children under 6 and advise caution between 6 and 12 years. There is no evidence that these treatments alleviate nasal symptoms and they can cause adverse effects such as drowsiness or gastrointestinal upset. Serious harm, such as convulsions, rapid heart rate, and death have been linked to decongestant use in very young children.
For reference log on to https://doi.org/10.1136/bmj.k3786