Exercise and meditation appear to reduce common colds and flu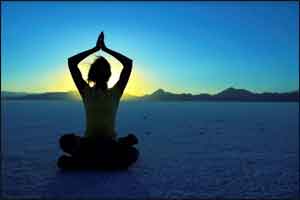 People who participated in eight weeks of mindfulness meditation training or took an eight-week program of moderate-intensity sustained exercise had lower rates of acute respiratory infections (ARI) compared to a control group, according to the results of a trial published in the journal PLOS One.
The Meditation or Exercise for Preventing Acute Respiratory Infection (MEPARI-2) clinical trial produced the same results as of the first MEPARI study, which included people 50 years of age and older.
Acute respiratory infections (ARI), including the common cold, influenza, and influenza-like-illness, is very common and leads to substantive morbidity, mortality, and economic harms.
Bruce Barrett and his associates conducted a study to assess the preventive effects of meditation and exercise on acute respiratory infection (ARI) illness. The study was a randomized controlled prevention trial with three parallel groups. The study participants chosen were Community-recruited adults who did not regularly exercise or meditate.
Read Also
:
Procalcitonin-Guided Antibiotic Therapy for better Survival in Acute Respiratory Infection
The trial included:
1.A 8-week behavioral training in mindfulness-based stress reduction (MBSR)
2. Matched 8-week training in moderate intensity sustained exercise (EX)
3. An observational waitlist control.
A total of 413 participants aged 30 to 69 years old were included in the trial, out of which 390 completed their study.
Key findings of the study:


In the MBSR group, 74 experienced 112 ARI episodes with 1045 days of ARI illness.


Among exercisers, 84 had 120 episodes totaling 1010 illness days.


Eighty-two of the controls had 134 episodes with 1210 days of ARI illness.


Mean global severity was 315 for MBSR, 256 for EX, and 336 for controls.


There were 73 ARI-related missed-work days and 22 ARI-related health care visits in the MBSR group, 82 days and 21 visits for exercises, and 105 days and 24 visits among controls.


Viruses were identified in 63 ARI episodes in the MBSR group, compared to 64 for EX and 72 for control.


Statistically significant improvements in general mental health, self-efficacy, mindful attention, sleep quality, perceived stress, and depressive symptoms were observed in the MBSR and/or EX-groups, compared to control.


The study concluded that training in mindfulness meditation or exercise may help protect against ARI illness.
For more reference log on to https://doi.org/10.1371/journal.pone.0197778
Source : With inputs from the journal PLOS One