Dyslipidemia associated with erectile dysfunction in diabetes mellitus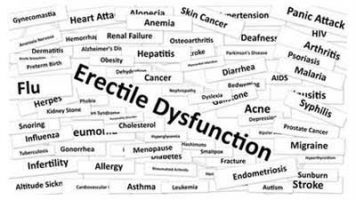 A new study published in the journal Diabetes & Metabolic Syndrome has reported that dyslipidemia was associated with increased erectile dysfunction(ED) risk among type 2 diabetes mellitus (T2DM) patients.
Erectile dysfunction (ED) affects more than 150 million men worldwide and the number is expected to become more than double to 322 million men by 2025.
Read Also: Psoriasis patients at increased risk of erectile dysfunction
Several studies into ED in general population have exhibited an association between ED and dyslipidemia. Abul Kalam Azad and his colleagues conducted a study to examine the possible association of dyslipidemia with the risk of ED in patients with T2DM.
A total of 813 eligible adult male T2DM patients with no known anomaly or injury in the genitourinary anatomy were included in the study from July 2015 to December 2015. Patients had their diabetes diagnosed in less than 1 year, not staying with spouse during the past six months, suffering from a debilitating chronic disease or condition including psychiatric illness were excluded.
In-depth interview of the study participants was conducted to collect sociodemographic data using pretested interview schedule. Of the 813 participants who participated in the interview, 76 subjects answered, "No sexual activity" in the past 1 month and were excluded from further analysis.
Read Also:Overdose of erectile dysfunction drug leads to retinal toxicity- JAMA
The investigators found that of the 737 men included in the analysis, 536 (72.7%) reported varying degrees of ED, 129 (17.5%) of them had mild ED, 147 (19.9%) had mild-to-moderate ED, 164 (22.3%) had moderated ED and 96 (13%) had severe ED. The patients with diabetes and ED were significantly older, less educated, poorer, had a longer duration of diabetes and reported poorer diabetes control. Diabetic patients with ED were 2.3 times more likely to have dyslipidemia in comparison to those with no ED.
The study concluded that dyslipidemia appeared as a significant predictor of ED among T2DM patients. More specifically abnormal lipoprotein level caused a greater risk of ED among diabetic patients.
For full information log on to https://doi.org/10.1016/j.dsx.2018.11.052
Source : With inputs from Diabetes & Metabolic Syndrome