Dual antibiotic therapy more effective in Typhoid Fever-says Trial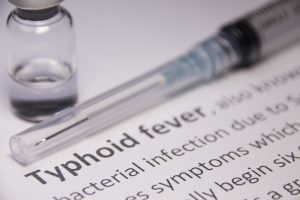 Combination of azithromycin and third-generation cephalosporins leads to a more effective therapy in patients with typhoid fever (TF) than monotherapy by reducing the time to defervescence and clearance of bacteremia, according to a study recently published in the journal PLOS.
The treatment of Typhoid Fever(TF) is steadily becoming a challenge for clinicians due to increasing resistance to antibiotics. The current single-drug regimens show prolonged fever clearance time (FCT) potentially contributing to the development of antibiotic resistance and the chronic carriage of the pathogens.
Read Also:
WHO recommendations on typhoid vaccines
Niv Zmora and his associates conducted a study to assess the efficacy of combining third-generation cephalosporin therapy with azithromycin on the outcomes of TF in patients living in an endemic region.
An open-label, comparative trial was conducted which included 105 patients aged 18 years and above with only culture-confirmed TF cases. Four study arms were created and patients were alternately allocated to one of four study arms: hospitalized patients received either intravenous ceftriaxone or a combination of ceftriaxone and oral azithromycin, while outpatients received either oral azithromycin or a combination of oral azithromycin and cefixime. The primary outcome evaluated was fever clearance time, FCT and the secondary outcomes included the duration of bacteremia.
The study found that fever clearance time, FCT was significantly shorter for the 47 patients who received combination therapy compared to the 41 patients who received a single-agent regimen (median values of 88 versus 95 hours, respectively.
Bacteremia was detected in blood cultures drawn on day three for 17% of patients who received monotherapy and 4% who received combination therapy, both as outpatients. All patients who were still bacteremic on day three had a negative blood culture on day five. Similarly, when outpatients were analyzed separately, median FCT was 96·75 hours for the oral azithromycin arm versus 86·5 for the combination of azithromycin and cefixime. For inpatients, median FCT was 98·25 hours for the intravenous ceftriaxone arm versus 80 hours for the combination of ceftriaxone and azithromycin.
No adverse effect was observed by the researchers.
The study concluded that combination therapy of third-generation cephalosporins and azithromycin for TF may prove to be more superior than monotherapy in terms of FCT and time to eliminate bacteremia.
Typhoid (Enteric) Fever (TF) is a human-restricted disease caused by the pathogens Salmonella enterica serovar Typhi (S. Typhi) and Paratyphi (S. Paratyphi), which is associated with significant morbidity and mortality when untreated. The disease is transmitted through a fecal-oral route via contaminated food and water, and is, therefore, a marker of poverty and lack of proper sanitation.
For more reference log on to https://doi.org/10.1371/journal.pntd.0006380
Source : With inputs from the journal PLOS