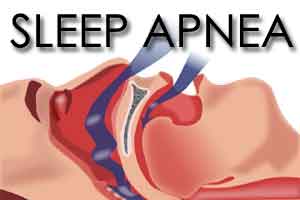 A new study published in the journal Sleep reports that the immunomodulatory drug dimethyl fumarate (DMF) partially ameliorates obstructive sleep apnea (OSA) severity and this effect is mediated by suppression of systemic inflammation through reduction of NFκB signaling.
Tiffany J Braley et al. conducted a study to investigate the therapeutic effect of dimethyl fumarate (DMF, an immunomodulatory agent) on obstructive sleep apnea (OSA), and potential influence of any such effect by selected proinflammatory molecules.
The authors of this randomized, placebo-controlled study evaluated the effectiveness of dimethyl fumarate 240 mg twice daily (n = 44) compared with placebo (n = 21) in 65 patients with obstructive sleep apnea (OSA) who were unable to tolerate continuous positive airway pressure(CPAP).
Patients with OSA who deferred positive airway pressure therapy were randomized (2:1) to receive DMF or placebo for 4 months. Participants underwent polysomnography before randomization and at 4 months. Blood was collected monthly. The main outcome was the mean group change in respiratory disturbance index (δ-RDI). Secondary endpoint focused on the association between treatment effect of DMF and expression of plasma cytokines and chemokines, or nuclear factor κ-B (NFκB) signaling molecules in peripheral blood mononuclear cells.
Read Also:Treatment with CPAP for Sleep apnea improves Erectile dysfunction
Key study findings:
The DMF group had a mean decrease in RDI of 3 events, while the placebo group had a mean increase of 10 events; after controlling for other variables including baseline RDI, this significant treatment effect (38% decrease in RDI) was sustained.
DMF side effects included flushing and nausea.
There were no serious treatment-related adverse effects. DMF was discontinued in 1 patient at month 2 due to leukopenia.
Plasma levels of TNF-α showed only nonsignificant decreases, and IL-10 and IL-13 only nonsignificant increases, in DMF-treated participants compared with placebo.
No significant interaction or main effect on RDI for selected cytokines and chemokines was found.
Participants with a therapeutic response to DMF did experience significant reductions in intracellular NFκB signaling molecules at 4 months. Overall, DMF was well-tolerated.
The study concluded that immunomodulation may be beneficial for patients with OSA who are CPAP-intolerant.
For reference log on to https://doi.org/10.1093/sleep/zsy109