Dexamethasone does not prevent Altitude sickness in COPD patients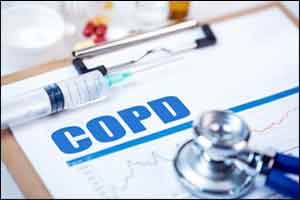 Dexamethasone was found ineffective in preventing acute mountain sickness (AMS) or altitude-related adverse health effects (ARAHE) among patients with mild-to-moderate COPD, according to the findings of a trial recently published in the journal Chest. Many studies in past have indicated that prophylactic treatment with frequent high doses of dexamethasone prevents AMS and it may be recommended as a preventive treatment in patients allergic to acetazolamide.
Travelling to high altitudes may cause acute mountain sickness (AMS) and other altitude-related adverse health effects (ARAHE) in patients with chronic pulmonary obstructive disease(COPD).
Furian M and his associates evaluated whether dexamethasone, a drug used for the prevention of AMS in healthy individuals was effective in preventing AMS/ARAHE in patients with COPD.
COPD is a chronic inflammatory lung disease that causes obstructed airflow from the lungs.
The trial conducted by the researchers was a placebo-controlled, double-blind, parallel-design which included 118 patients with COPD and the Global Initiative for Obstructive Lung Disease grade 1 to 2 who were living below 800 m. The participants were randomly assigned dexamethasone (8 mg/d) or placebo starting on 1 day before ascending to a clinic at 3100 meters, and while staying there for 2 days.
Read Also: Latest 2018 Gold COPD Guidelines
The primary endpoint was the combined incidence of AMS/ARAHE, defined as an Environmental Symptoms Questionnaire cerebral score evaluating AMS ≥ 0.7 or ARAHE requiring descent or an intervention.
Key findings of the study :


23% of patients developed AMS/ARAHE and were treated and relocated to a lower altitude.


Symptoms of AMS occurred in 24% of participants taking a placebo (14 of 58), and in 22% of participants taking dexamethasone (13 of 60).


There was a greater reduction in PaCO2 and increase in pH in Dexamethasone group versus placebo.


The study concluded that dexamethasone treatment was not able to reduce the incidence of AMS/ARAHE at 3,100 meters in lowlanders with mild to moderate COPD.
"Based on these findings, dexamethasone cannot be recommended for the prevention of AMS/ARAHE in patients with COPD undertaking high-altitude travel, although the drug mitigated the altitude-induced hypoxemia." said the authors.
For reference log on to 10.1016/j.chest.2018.06.006
Source : With inputs from the journal CHEST