Latest 2018 Gold COPD Guidelines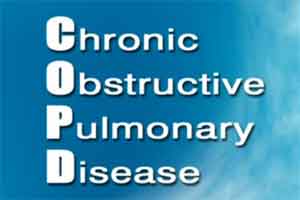 Global Initiative for Chronic Obstructive Lung Disease (GOLD) has Updated guidelines for the chronic obstructive pulmonary disease of last year. The new COPD guidelines have revised the definition and staging of the condition. It now defines the condition as persistent respiratory symptoms that occur in the setting of airflow limitation, measured as a ratio of post-bronchodilator forced expiratory volume in one second (FEV1) to forced vital capacity (FVC) of less than 70%, and may be related to either airway or alveolar abnormalities.
The guidelines have also revised the staging of COPD. In the recent update, the severity of airflow obstruction as measured by spirometry has been separated from the patient's exacerbation history and the nature and magnitude of their symptoms. Spirometry results are used to classify patients as stage 1, 2, 3, or 4.The symptoms and exacerbation history are used to select a letter classification: A, B, C, or D. Classes A and B are those patients with one or no exacerbations and no hospital admissions. Patients in classes C and D have had at least two exacerbations or an admission and are differentiated by the severity of their symptoms (D being more severe than C).
"The most common symptom far and away is breathlessness, and you have to push your patients sometimes to acknowledge this, as most commonly they'll just sort of decrease their level of peak activity," said Author Dr. Cho. "It's also important to ask about ways in which the disease limits their life, their daily activities, ability to leave the house, disrupts their sleep, and also whether they have a chronic cough and mucus production."
To assess symptoms, the guidelines recommend using the modified Medical Research Council scale or the COPD Assessment Test, and Dr. Cho favors the latter. Don't forget to also identify and treat comorbidities, which commonly include cardiovascular disease, skeletal muscle dysfunction, metabolic syndrome, osteoporosis, depression and anxiety, and lung cancer, she said.
"About 70% of COPD patients have at least one comorbidity, and 30% have four or more comorbidities," Dr. Cho reported.
Key Points of Guidelines are as follows:


Chronic Obstructive Pulmonary Disease (COPD) is a common, preventable and treatable disease that is characterized by persistent respiratory symptoms and airflow limitation that is due to airway and/or alveolar abnormalities usually caused by significant exposure to noxious particles or gases.


The most common respiratory symptoms include dyspnea, cough and/or sputum These symptoms may be under-reported by patients.


The villain risk factor for COPD is tobacco smoking but other environmental exposures such as biomass fuel exposure and air pollution may contribute. Besides exposures, host factors predispose individuals to develop COPD. These include genetic abnormalities, abnormal lung development, and accelerated aging.


COPD may be punctuated by periods of acute worsening of respiratory symptoms, called exacerbations.


In most patients, COPD is associated with significant concomitant chronic diseases, which increase its morbidity and mortality.


DIAGNOSIS AND ASSESSMENT OF COPD


COPD should be considered in any patient who has dyspnea, chronic cough or sputum production, and/or a history of exposure to risk factors for the disease.


Spirometry is required to make the diagnosis; the presence of a post-bronchodilator FEVI/FVC < 0.70 confirms the presence of persistent airflow limitation.


The goals of COPD assessment are to determine the severity of the disease, including the severity of airflow limitation, the impact of disease on the patient's health status, and the risk of future events (such as exacerbations, hospital admissions, or death), in order to guide therapy.


Concomitant chronic diseases occur frequently in COPD patients, including cardiovascular disease, skeletal muscle dysfunction, metabolic syndrome, osteoporosis, depression, anxiety, and lung cancer. These comorbidities should be actively sought and treated appropriately when present as they can influence mortality and hospitalizations independently.


MANAGEMENT OF EXACERBATIONS


An exacerbation of COPD is defined as an acute worsening of respiratory symptoms that results in additional therapy.


Exacerbations of COPD can be precipitated by several factors. The most common causes are respiratory tract infections.


The goal for treatment of COPD exacerbations is to minimize the negative impact of the current exacerbation and to prevent subsequent events.


Short-acting inhaled beta2-agonists, with or without short-acting anticholinergics, are recommended as the initial bronchodilators to treat an acute exacerbation. .&


Maintenance therapy with long-acting bronchodilators should be initiated as soon as possible before hospital discharge.


Systemic corticosteroids can improve lung function (FEV2), oxygenation and shorten recovery time and hospitalization duration. Duration of therapy should not be more than 5-7 days.


Antibiotics, when indicated, can shorten recovery time, reduce the risk of early relapse, treatment failure, and hospitalization duration. Duration of therapy should be 5-7 days


Methylxanthines are not recommended due to increased side effect profiles.


Non-invasive mechanical ventilation should be the first mode of ventilation used in COPD patients with acute respiratory failure who have no absolute contraindication because it improves gas exchange, reduces work of breathing and the need for intubation, decreases hospitalization duration and improves survival.


Following an exacerbation, appropriate measures for exacerbation prevention should be initiated.


To view full guidelines log on to :
https://goldcopd.org/wp-content/uploads/2017/11/GOLD-2018-v6.0-FINAL-revised-20-Nov_WMS.pdf
Source : With inputs from GOLD