Decreasing sense of smell in elderly linked to higher death risk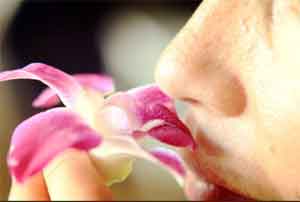 Poor sense of smell generally is not a cause of worry. However, according to a new study, it (disappearing sense of smell) may lead to a higher risk of death in older adults. The study, published in the journal Annals of Internal Medicine has found that older adults with poor olfaction are at a 46% higher risk of dying within 10 years. The reasons for which are not fully clear, but the association was partially explained by weight loss, Parkinson's disease, and dementia.
The association was surprisingly more evident in individuals who reported excellent to good health at baseline but not among those who reported fair to poor health.
Poor sense of smell is known as an early sign for Parkinson's disease and dementia and is associated with weight loss. However, these conditions only explained 28% of the increased risk, leaving most of it unexplained.
"Poor olfaction is common among older adults and has been linked to higher mortality," Honglei Chen, professor of epidemiology and biostatistics at the Michigan State University College of Human Medicine, and colleagues wrote. "However, most studies have had a relatively short follow-up and have not explored potential explanations."
Chen et al conducted a community-based prospective cohort study to assess poor olfaction in relation to mortality in older adults and to investigate potential explanations. For the purpose, they reviewed information from almost 2,300 participants between 71 and 82 years old over a 13-year period using data from the National Institute on Aging's Health ABC study. Participants included men and women, black and white, who completed a smell test of 12 common odors. Researchers then classified participants as having a good, moderate or poor sense of smell.
At 3, 5, 10 and 13 years, the researchers assessed all-cause and cause-specific mortality. By year 13, a total of 1,211 participants died.
Also Read: Study finds link between obesity and sense of smell
Key findings of the study include:


Compared with participants with good olfaction, those with poor olfaction had a 46% higher cumulative risk for death at year 10 and a 30% higher risk at year 13.


Similar associations were found in men and women and in white and black persons.


The association was evident among participants who reported excellent to good health at baseline but not among those who reported fair to poor health.


In analyses of cause-specific mortality, poor olfaction was associated with higher mortality from neurodegenerative and cardiovascular diseases.


Mediation analyses showed that neurodegenerative diseases explained 22% and weight loss explained 6% of the higher 10-year mortality among participants with poor olfaction.


Also Read: Rare case of Tooth in nose leading to loss of smell
"Poor olfaction among older adults with excellent to good health may be an early warning sign for insidious adverse health conditions that eventually lead to death. Incorporating a sense of smell screening in routine doctor visits might be a good idea at some point," concluded the authors.
For further reference log on to
DOI:

10.7326/M18-0775
Source : With inputs from Annals of Internal Medicine�