Dark chocolate -- A rich and tasty source of Vitamin D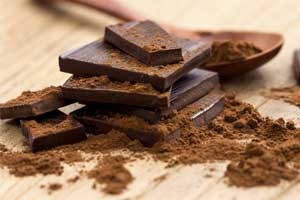 A new study published in the journal Food Chemistry has identified a new unknown source of vitamin D2 -- cocoa and foods containing cocoa. According to the researchers, the cocoa butter and dark chocolate contain the highest amount of vitamin D2.
Gabriele I. Stangl, Martin Luther University Halle-Wittenberg, Germany, and colleagues investigated the Vit. D content of cocoa and products containing cocoa because they suspected that they contained a previously unknown source of the vitamin.
The study is significant as many people do not get enough Vit. D. Brittle bones and an increased risk of respiratory diseases can be the result of a Vit. D deficiency.
Vitamin D is crucial for the human body. It comes in two types: vitamin D2 and D3. Vitamin D3 is produced in the human skin through exposure to the sun. Humans get 90 percent of their vitamin D requirements this way. The rest is ideally consumed through food, such as fatty fish or chicken eggs. Vitamin D2, which can also be utilized by the human body, is found in fungi. "Many people do not get enough vitamin D. The problem increases in the winter months when sunshine is scarce," says Stangl.
For the study, the cocoa beans are dried after fermentation. They are placed on mats and exposed to the sun for one to two weeks. The precursors of vitamin D, which presumably originate from harmless fungi, are transformed by the sunlight into vitamin D2. In order to test their theory, the research group analyzed various cocoa products and powders using state-of-the-art mass spectrometry.
Also Read: Daily consumption of Almonds and Dark Chocolate Improves Lipid Profile
Key Findings:


Products containing cocoa are indeed a source of vitamin D2, but the amount varies greatly from food to food.


While dark chocolate has a relatively high vitamin D2 content, researchers found very little in white chocolate.


"This is not surprising as the cocoa content in white chocolate is significantly lower. It confirms our assumption that cocoa is the source of vitamin D2," explains Stangl.
However, the nutritionist's findings do not prompt her to recommend consuming large quantities of chocolate: "You would have to eat enormous amounts of chocolate to cover your vitamin D2 requirements. That would be extremely unhealthy because of the high sugar and fat content," says Stangl.
As part of the nutriCARD Competence Cluster funded by the German Federal Ministry of Education and Research, Stangl's team is investigating whether it is possible to produce sugar-free foods containing cocoa, such as pasta, and whether these can raise vitamin D2 levels in humans.
"Cocoa and chocolate are clearly a dietary source of vitamin D, therefore, it is necessary to update food composition databases," concluded the authors.
For further reference log on to
https://doi.org/10.1016/j.foodchem.2018.06.098
Source : With inputs from Food Chemistry