Daily consumption of Almonds and Dark Chocolate Improves Lipid Profile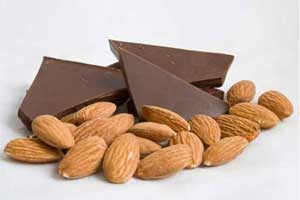 In the past it has been well established that consumption of almonds or dark chocolate and cocoa has favorable effects on markers of coronary heart disease; however, the combined effects have not been evaluated in a well‐controlled feeding study.
Dr.Yujin Lee and associates conducted a randomized controlled, 4‐period, crossover, feeding trial to examine the individual and combined effects of consumption of dark chocolate and cocoa and almonds on markers of coronary heart disease risk. It was found in the trial that Daily consumption of Almonds & Dark Chocolate and incorporating them into daily diet may Improve Lipid Profile. The study has been published in Journal of the American Heart Association.
In the trial, Forty‐eight overweight and obese individuals aged 30 to 70 years were enrolled out of which 31 participants completed the entire study. The participants consumed each of 4 isocaloric, weight maintenance diets: (1) no treatment foods (average American diet), (2) 42.5 g/d of almonds (almond diet [ALD]), (3) 18 g/d of cocoa powder and 43 g/d of dark chocolate (chocolate diet [CHOC]), or (4) all 3 foods (CHOC+ALD) for 4 weeks followed by a 2‐week compliance break .
The researchers found that eating nearly one-third cup of almonds a day—either alone or combined with almost one-quarter cup of dark chocolate and a little more than 2 tablespoons of cocoa a day—improved lipid/lipoprotein profiles, when compared with the average American diet absent of almonds and chocolate.
The authors concluded that consumption of almonds alone or combined with dark chocolate under controlled‐feeding conditions improves lipid profiles. Incorporating almonds, dark chocolate, and cocoa into a typical American diet without exceeding energy needs may reduce the risk of coronary heart disease.
The message is not that people should go out and eat a lot of chocolate and almonds to lower their LDL," lead researcher Dr. Penny M Kris-Etherton (Penn State University, University Park, PA), said in a statement.
"People are allowed to have about 270 discretionary calories a day, and when foods like almonds, dark chocolate, and cocoa are consumed together as a discretionary food, they confer health benefits unlike other discretionary foods such as frosted doughnuts," she said.
"A take-home message is: choose your discretionary calories wisely. Eat foods that are going to benefit health vs those that have no value or even an adverse effect," Kris-Etherton told theheart.org
For further reference log on to :
http://jaha.ahajournals.org/content/6/12/e005162