Corticosteroid inhalers in COPD patients offer protection against lung cancer, finds new study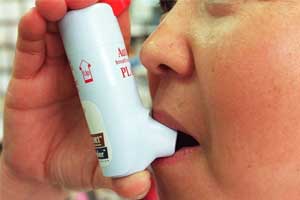 Corticosteroid inhalers in COPD patients offer protection against lung cancer, finds a new study.
Patients with chronic obstructive pulmonary disease (COPD) who use inhaled corticosteroids (ICSs) through inhalers for the treatment are at significantly lower risk of developing lung cancer versus patients who do not use ICS, reveals a recent study published in the European Respiratory Journal.
According to the researchers of the CORE study, COPD patients who consistently used ICS were at 25 to 30% lower risk of getting lung cancer compared to people who did not take the treatment.
Chronic Obstructive Pulmonary Disease is a common, preventable and treatable disease that is characterized by persistent respiratory symptoms and airflow limitation that is due to airway and/or alveolar abnormalities usually caused by significant exposure to noxious particles or gases.
ICS through inhalers are medications commonly prescribed for lung conditions including asthma and COPD. It is a preparation designed to be inhaled through the mouth. Inhaled corticosteroids act directly in the lungs to inhibit the inflammatory process that leads to these conditions. Lung cancer is the leading cause of mortality among COPD patients, so it becomes important to determine the impact of ICS treatment on the risk of lung cancer.
Larry Lynd, the University of British Columbia in Vancouver, Canada, and colleagues evaluated the association between ICS use and lung cancer risk among COPD patients.
Population-based linked administrative data between the years 1997 and 2007 from the province of British Columbia, Canada. COPD was defined on the basis of receipt of three COPD-related prescriptions in subjects ≥50 years of age.
A total of 39,676 patients were included in the study, 53% were female.
Also Read: Latest 2018 Gold COPD Guidelines
Key findings of the study include:


There were 994 (2.5%) cases of lung cancer during follow-up.


In the reference case analysis (time-dependent "ever" exposure), ICS exposure was associated with a 30% reduced risk of lung cancer


ICS exposure was associated with a decrease in the risk of lung cancer diagnosis overall five methods of quantifying exposure.


Lung cancer risk was reduced by 26 per cent per weighted year when using a recency-weighted duration of use exposure metric, and by 43 per cent per gram of ICS use based on a recency-weighted cumulative dose metric.


Analyses of lung cancer histology showed similar results of a protective effect of ICS.


Also Read: Diet rich in apples and tomatoes restores lung damage caused by smoking
Although the mechanism behind the association remains elusive, previous evidence has indicated that persistent inflammation may be an important contributor to the pathogenesis of lung cancer. "[Thus,] long-term ICS use may have salutary effects in reducing the risk of lung cancer in COPD patients," suggested the researchers.
"The appropriate use of ICS in COPD patients is often debated and not all patients might benefit from the use of ICS. The clinical benefits and risk of use in an individual patient must be weighed by the physician," advised Lynd and co-authors.
"This study, however, indicates that potential benefits may accrue from ICS use in COPD patients in terms of reduced lung cancer risk and that sustained use may be associated with reduced risk of lung cancer," they added.
"More work is clearly needed to understand the exact nature of the relationship between lung cancer risks and steroid use," said Lynd. "Over the next few months, we will find out which COPD patients would benefit the most from inhaled steroids."
To get full access to the study log on to
DOI:

10.1183/13993003.01257-2018