Cool running water for 20 minutes reduces burns related complications: Study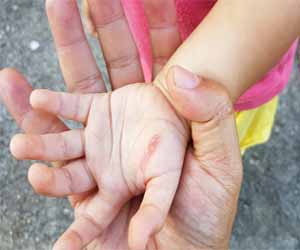 Australia: The administration of cool running water for 20 minutes within 3 hours of injury significantly reduces burn severity, need for skin grafting and hospitalization in children, finds a recent study published in the Annals of Emergency Medicine journal.
First-aid guidelines recommend the administration of cool running water in the early management of thermal injury. Bronwyn R. Griffin, Centre for Children's Burns and Trauma Research, South Brisbane, Queensland, Australia, and colleagues analyzed the associations between first aid and skin-grafting requirements in children with burns.
This was a retrospective analysis of a pediatric burn registry (with data entered prospectively) that included 2,495 children with burns. Multivariate logistic regression models were used to evaluate the relationship between first aid and the requirement for skin grafting. Secondary outcomes included time to re-epithelialization, wound depth, hospital admission and length of stay, and operating room interventions. Adequate first aid was defined as 20 minutes of cool running water within 3 hours of injury.
2,259 (90.6%) received first aid involving running water, but only 1,780 (71.3%) were given the adequate duration.
Also Read: Burn wounds and electrical injury in a bathtub due to smartphone: a case report
Key findings include:


A total of 236 children (9.5%) required grafting.


The odds of grafting were decreased in the adequate first aid group.


The provision of adequate running water was further associated with reductions in full-thickness depth, hospital admission, and operating room interventions, but not hospital length of stay.


Also Read: Breakthrough- Single use of new regenerative tissue closes burns wound by three months: clinical trial
"Burn severity and clinical outcomes improved with the administration of cool running water. Adequate first aid must be prioritized by out-of-hospital and emergency medical services in the preliminary management of pediatric burns," concluded the authors.
Source
Cool Running Water First Aid Decreases Skin Grafting Requirements in Pediatric Burns: A Cohort Study of Two Thousand Four Hundred Ninety-five Children
DOI: https://doi.org/10.1016/j.annemergmed.2019.06.028
Source : With inputs from Annals of Emergency Medicine�