DPP-4 inhibitors may increase risk of aspiration pneumonia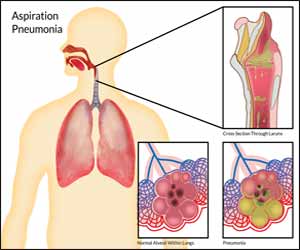 Japan: Glucose-lowering DPP-4 inhibitors are expected to prevent dysphagia and aspiration pneumonia due to their role in preventing the degradation of substance P involved in swallowing reflex. However, a recent study in the European Journal of Clinical Pharmacology indicates otherwise. The study revealed DPP-4 inhibitors to be strongly associated with onset rather than preventing aspiration pneumonia.
The result suggests that DPP-4 inhibitors may affect the immune function associated with the development of aspiration pneumonia. Furthermore, there is a possibility that the amount of DPP-4 inhibitors used clinically is not able to increase the amount of substance P in quantity sufficient enough to prevent aspiration pneumonia.
Pneumonia is a breathing condition characterized by swelling or an infection of the lungs or large airways. Aspiration pneumonia occurs when food, saliva, liquids, or vomit is breathed into the lungs or airways leading to the lungs, instead of being swallowed into the esophagus and stomach. It is the most commonly reported pneumonia in elderly patients, and a major cause of death in this population.
Yoshihiro Noguchi, Laboratory of Clinical Pharmacy, Gifu Pharmaceutical University, Gifu, Japan, and colleagues used a spontaneous reporting system to evaluate the signals for dysphagia and aspiration pneumonia with DPP-4-Is.
For the purpose, the researchers calculated reporting odds ratio (ROR) and information coefficients (IC) as disproportionality analysis to evaluate DPP-4-Is induced dysphagia and aspiration pneumonia using the Japanese Adverse Drug Event Report (JADER) database.
Read Also: Unusual case of recurrent aspiration pneumonia due to Asymptomatic dysphagia
Key findings of the study include:


For DPP-4-Is as a class, no signals were detected for dysphagia, but the signal for aspiration pneumonia was detected at ROR 1.67 and IC 0.70.


For aspiration pneumonia, trelagliptin was the only drug among the DPP-4-Is for which both ROR and IC signals were detected (ROR 9.99; IC: 1.98).


ROR signals, but not IC signals, were detected for linagliptin (ROR 2.66; IC: 1.09) and sitagliptin (ROR 1.84; IC: 0.78).


Read Also: Short term use of DPP4 Inhibitors not linked to increased IBD risk
Adverse event reporting data link glucose-lowering dipeptidyl peptidase-4 inhibitors (DPP-4-Is) to aspiration pneumonia risk. Findings are contrary to expectations based on the ability of DPP-4-Is to attenuate substance P inhibition.
The study, "Association between dipeptidyl peptidase-4 inhibitor and aspiration pneumonia: disproportionality analysis using the spontaneous reporting system in Japan," is published in the European Journal of Clinical Pharmacology.
Source : With inputs from European Journal of Clinical Pharmacology