Consumption of processed meat may lead to mania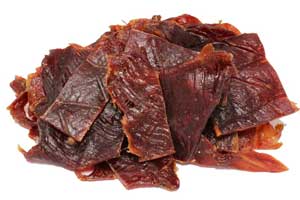 A new study published in the journal Molecular Psychiatry has found that nitrates -- chemicals used for curing of meats such as hot dogs, salami, beef jerky and other processed meat snacks -- may be associated with an abnormal mood state called mania which is characterized by insomnia, euphoria, and hyperactivity.
The study, that involved the analysis of more than 1,000 people with and without psychiatric disorders, has found that people hospitalized for a manic episode had more than three times the odds of having ever eaten nitrate-cured meats compared to people having no history of a serious psychiatric disorder.
Experiments in rats by the same researchers showed mania-like hyperactivity after just a few weeks on diets with added nitrates.
Robert H. Yolken, the Theodore and Vada Stanley Distinguished Professor of Neurovirology in Pediatrics at the Johns Hopkins University School of Medicine, and colleagues conducted the study to measure dietary exposures in a cohort of individuals with mania and other psychiatric disorders as well as in control individuals without a psychiatric disorder.
Mania is a state of elevated energy, arousal, and mood that may last from weeks to months and is common in people with bipolar disorder, but can also occur in people with schizoaffective disorder. Manic states can include delusional thinking and can lead to dangerous risk-taking behavior.
Read Also: High consumption of red meat related to NAFLD
A number of genetic and other risk factors are linked to the manic episodes that characterize bipolar disorder. These factors are unable to explain the cause of these mental illnesses and researchers are increasing their emphasis on environmental factors, such as diet. Findings of this study add to evidence that certain diets and the types and amounts of bacteria in the gut might contribute to mania and other disorders affecting the brain.
"Future work on this association could lead to dietary interventions to help reduce the risk of manic episodes in those who have bipolar disorder or who are otherwise vulnerable to mania," says Dr. Yolken.
For the study, Those with psychiatric disorders were recruited from patients receiving care at the Sheppard Pratt Health System in Baltimore. Individuals with no history of psychiatric disorders were recruited from posted announcements at local health care facilities and universities in the region. Their records were studied between 2007 and 2017.
Key Findings:


Among people who had been hospitalized for mania, a history of eating cured meat before hospitalization was approximately 3.5 times higher than the group of people without a psychiatric disorder.


Cured meats were not associated with a diagnosis of schizoaffective disorder, bipolar disorder in people not hospitalized for mania or in major depressive disorder.


No other foods about which participants were queried had a significant association with any of the disorders, or with mania.


"We looked at a number of different dietary exposures and cured meat really stood out," says Yolken. "It wasn't just that people with mania have an abnormal diet."
"It's clear that mania is a complex neuropsychiatric state, and that both genetic vulnerabilities and environmental factors are likely involved in the emergence and severity of bipolar disorder and associated manic episodes," says Seva G. Khambadkone, Department of Psychiatry and Behavioral Sciences, Johns Hopkins School of Medicine, Baltimore, MD, U.S. "Our results suggest that nitrated cured meat could be one environmental player in mediating mania."
"Lower odds of association were found between eating nitrated dry-cured meat and other psychiatric disorders. We further found that the feeding of meat preparations with added nitrate to rats resulted in hyperactivity reminiscent of human mania, alterations in brain pathways that have been implicated in the human bipolar disorder, and changes in intestinal microbiota. These findings may lead to new methods for preventing mania and for developing novel therapeutic interventions," concluded the authors.
For more information log on to
https://doi.org/10.1038/s41380-018-0105-6
Source : With inputs from Molecular Psychiatry