Childhood antibiotics and antacids linked to heightened obesity risk -BMJ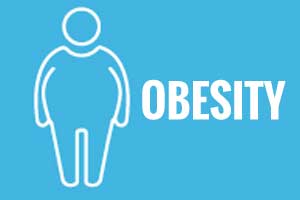 A new study published in the journal The BMJ reports that antibiotics, acid suppressants and the combination of multiple medications in the first 2 years of life are associated with a diagnosis of childhood obesity. The study suggests that microbiota-altering medications administered in early childhood may influence weight gain.
Christopher M Stark and associates performed a cohort study to investigate the association of antibiotic, histamine-2 receptor antagonist (H2RA) and proton pump inhibitor (PPI) prescriptions during early childhood with a diagnosis of obesity.
Read Also: Rapid weight gain in early childhood cause of sustained obesity later
The investigators performed a retrospective cohort study of US Department of Defense TRICARE beneficiaries born from October 2006 to September 2013. Exposures were defined as having any dispensed prescription for antibiotic, H2RA or PPI medications in the first 2 years of life. A single event analysis of obesity was performed using Cox proportional hazards regression.
The study included 333 353 children with 241 502 (72.4%) children prescribed an antibiotic, 39 488 (11.8%) an H2RA and 11 089 (3.3%) a PPI. Antibiotic prescriptions were associated with obesity.
The key study findings included are:


The outpatient prescriptions for antibiotics and acid-suppressing medications within the first 2years of life are associated with the development of early childhood obesity.


H2RA and PPI prescriptions were also associated with obesity, with a stronger association for each 30-day supply prescribed.


This association became stronger with prescriptions for more than one type of microbiota-altering medication.


Prescriptions for all commonly prescribed antibiotic classes were associated with childhood obesity.


Moreover, the prescriptions for multiple classes of antibiotics increases the risk of obesity.


Read Also: Improving Sleep habits in infants protects them from obesity, finds study
"Our study represents the single largest cohort of pediatric patients evaluated for exposure to antibiotics and the development of obesity. This is the first study to specifically evaluate multiple acid-suppressant medications and subsequent development of obesity in pediatric patients," write the authors.
Obesity-associated health problems, including hypertension, diabetes, and hyperlipidemia, are becoming a matter of concern in children. An imbalance between energy intake and expenditure symbolized by poor diet and physical inactivity is the largest contributor to the emergence of childhood obesity.
For reference log on to http://press.psprings.co.uk/gut/october/gut314971.pdf
Source : With inputs from the journal The BMJ