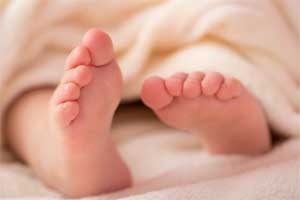 A brief sleep intervention in infancy is linked to decreased risk of obesity later in childhood, a new study shows.
The study, published in the American Journal of Clinical Nutrition finds that the use of a brief sleep intervention during the first months of life and designed to improve sleep habits from birth is associated with a reduced risk of obesity up to age 5.
Rachael W Taylor, director of the Edgar Diabetes and Obesity Research Centre, the University of Otago, New Zealand, and colleagues conducted the study to determine how brief sleep intervention in infancy influenced growth at ages 3.5 and 5 y compared with usual care.
"For those children who received the sleep intervention, we found that at 2 years of age they had about half the risk of obesity compared with children who had not received the sleep intervention," write the authors.
"But more importantly, these benefits were still apparent at 5 years of age, despite no intervention having had occurred for 3 years."
For the study, a follow-up of a parallel, 4-arm, single-blind, 2-y, randomized controlled trial in 802 women (86% European, 48% primiparous) recruited in pregnancy (58% response rate) was undertaken. All groups received standard Well-Child care with additional support for 3 intervention groups: FAB (promotion of breastfeeding, healthy eating, physical activity: 8 contacts, antenatal, 18 mo); Sleep (prevention of sleep problems: antenatal, 3 wk); Combination (both interventions).
The primary outcome was child body mass index (BMI) z score, and secondary outcomes were the prevalence of obesity (BMI ≥95th percentile), self-regulation (psychological measures), sleep, physical activity (accelerometry, questionnaires), and dietary intake (food-frequency questionnaire).
Key Findings:
Retention was 77% at age 3.5 y and 69% at age 5 y.
Children in the FAB group had significantly higher BMI z scores than did Controls at age 5 y (adjusted difference: 0.25; 95% CI: 0.04, 0.47) but not at age 3.5 y (0.15; 95% CI: −0.04, 0.34).
Those who received the sleep intervention had lower BMI z scores at age 3.5 years (−0.24; 95% CI:−0.38, −0.10) and at age 5 years (−0.23; 95% CI, −0.38, −0.07) compared with the control and nutrition/physical activity groups.
Children in the nutrition/activity group in fact unexpectedly showed significantly higher BMI z scores compared with controls at age 5 years (adjusted difference, 0.25; 95% CI, 0.04, 0.47) but not at age 3.5 years (0.15; 95% CI, −0.04, 0.34).
In terms of the relative risk for obesity, no significant differences were seen in the sleep group at age 3.5 years, however, by age 5 years, those children had approximately half the risk of obesity (relative risk, 0.49) compared with those who did not receive the sleep intervention.
An unexpected finding was that the nutrition group fared worse; the children in this group had a higher body mass index (BMI) than the control group, a finding the researchers say is hard to explain, although they suggest it may indicate there is no additional benefit to nutrition counseling over and above the standard care offered.
Why our nutrition and activity intervention increased the risk of obesity relative to usual care is not clear, particularly given the similarity in relevant behaviors across groups at 3.5 years," Taylor said.
Those findings lead to the conclusion that "additional guidance and support of nutrition and physical activity may simply not provide additional benefit if an excellent Well Child health system is already in place," the authors say.
"Sleep interventions offer promise (and) appear to persist to age 5 years, and further work should examine their potential, including the most effective 'dose' and duration in more diverse or higher-risk population groups," the authors write.
"The relationship between not getting enough sleep and being at higher risk of obesity is actually stronger than the evidence base for nutrition or activity, where the findings are often more mixed."
"A conventional intervention had unexpected adverse long-term weight outcomes, whereas positive outcomes from a less conventional sleep intervention remained promising at age 5 y. More intensive or extended sleep intervention might have larger or longer-lasting effects and should be investigated.," concluded the authors.
For further reference log on to https://doi.org/10.1093/ajcn/nqy090
The following two tabs change content below.
Medha Baranwal
Medha Baranwal joined Medical Dialogues as a Desk Editor in 2018 for Speciality Medical Dialogues. She covers several medical specialties including Cardiac Sciences, Dentistry, Diabetes and Endo, Diagnostics, ENT, Gastroenterology, Neurosciences, and Radiology. She has completed her Bachelors in Biomedical Sciences from DU and then pursued Masters in Biotechnology from Amity University. She can be contacted at medha@medicaldialogues.in. Contact no. 011-43720751
Latest posts by Medha Baranwal (see all)