................................ Advertisement ................................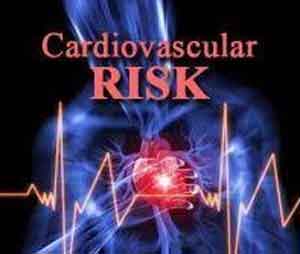 Computed tomography (CT) based abdominal aortic calcification is a strong predictor of future cardiovascular events including heart attack, outperforming the Framingham risk score, according to a new study published in the journal Radiology.
The Framingham risk score (FRS) is a well-known and well-validated prediction model for cardiovascular disease based on traditional risk factors, including age, sex, cholesterol level, and blood pressure.
Globally, cardiovascular diseases are the number one cause of mortality. Accurate assessment of risk for future cardiovascular events can help to guide patient management, aggressively treating those at highest risk while protecting those at low risk from the costs, potential adverse effects, and other risks related to unnecessary interventions.
................................ Advertisement ................................
Abdominal aortic calcification (AAC) is associated with risk factors of cardiovascular disease and correlates with asymptomatic coronary artery disease, prompting assessment of its value for prediction of cardiovascular disease.
................................ Advertisement ................................
CT is commonly used to measure calcium, a component of plaque, in the coronary arteries.CT can also measure calcium in the abdominal aorta, the large vessel that carries oxygenated blood to the lower extremities. The abdominal aorta can be seen on abdominal imaging exams like CT colonography, also known as virtual colonoscopy, and in the diagnostic workup for acute cholecystitis, an inflammation of the gallbladder often caused by gallstones.
"We found a strong association between abdominal aortic calcification and future cardiovascular events," said lead author Stacy D. O'Connor."With heart disease being a leading cause of death, anything we can do to make our patients more aware of their risk is going to help."
................................ Advertisement ................................
The researchers assessed the relationship between abdominal aortic calcification on CT and cardiovascular events in 829 asymptomatic patients with a mean age of approximately 58 years. The patients had undergone nonenhanced screening CT colonography between April 2004 and March 2005. The researchers were able to follow the patients for an average of 11 years to see if they had developed adverse cardiovascular events like heart attack, stroke, death or congestive heart failure.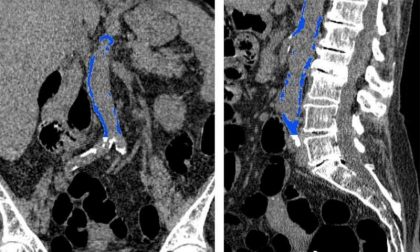 Images from CT colonography show segmented abdominal aortic calcification measured with semiautomated CT tool on (a) coronal and (b) sagittal images. Within a region of interest over aorta selected by the user, the tool automatically segments and quantifies aortic calcification (shown in blue). Credit: Radiological Society of North America
Read Also: Beware -Orthostatic hypotension may be sign of future cardiovascular disease
Key study findings:
An index cardiovascular event occurred after CT in 156 (19%) of 829 patients (6.7 years ± 3.5, including the heart attack in 39 [5%] and death in 79 [10%]).
AAC was higher in the cardiovascular event cohort.
AAC was a strong predictor of cardiovascular events at both univariable and multivariable Cox modeling, independent of FRS.
Kaplan-Meier plots showed better separation with AAC over FRS. The area under the receiver operating characteristic curve (AUC) was higher for AAC than FRS at all evaluated time points.
By using a cutoff point of 200, AAC improved FRS risk categorization with net reclassification improvement of 35.4%.
The study concluded that AAC derived from abdominal CT scans has the potential to provide valuable cardiovascular disease risk information beyond existing clinical risk estimates, such as the FRS, and may increase the overall accuracy of patient risk stratification.
"Quantification of AAC at CT was a strong predictor of future cardiovascular events, clearly outperforming the FRS in our study. This suggests a potential opportunistic role for aortic calcium scoring at noncontrast abdominal CT performed for other indications. Anticipated validation for use in contrast-enhanced CT, as well as the development of a fully automated version, could result in more widespread implementation in the near future," write the authors.
For reference log on to https://doi.org/10.1148/radiol.2018180562
Author Details
Vinay Singh joined Medical Dialogue as Desk Editor in 2018. He covers the medical speciality news in different medical categories including Medical guidelines, updates from Medical Journals and Case Reports. He completed his graduation in Biotechnology from AAIDU and did his MBA from IILM Gurgaon. He can be contacted at editorial@medicaldialogues.in . Contact no. 011-43720751
................................ Advertisement ................................