Brexanolone lifts postpartum depression within days: Lancet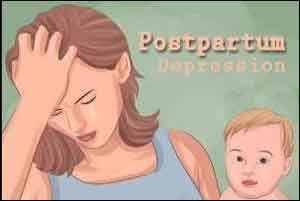 An integrated analysis of multi-site phase 2 and 3 trials of brexanolone injection are not only promising but could evolve the treatment of postpartum depression (PPD), say researchers from University of North Carolina (UNC).
The study published in the journal The Lancet found that the investigational medication, brexanolone injection 90 µg/kg/h (formerly SAGE-547 injection), demonstrated a reduction in depressive symptoms in women suffering from moderate and severe postpartum depression compared to placebo by the end of the primary time point of 60-hours.
Samantha Meltzer-Brody, Department of Psychiatry, University of North Carolina School of Medicine, U.S., and colleagues conducted the study to assess brexanolone injection, a positive allosteric modulator of γ-aminobutyric-acid type A (GABA A) receptors, for the treatment of moderate to severe PPD.
The mode of action of Brexanolone injection is different from existing anti-depressant medications, and if approved by the U.S. Food and Drug Administration (FDA), it will be the first new class of anti-depressants in decades, and the first drug specifically indicated for PPD.
Brexanolone injection is an allosteric modulator of both synaptic and extra-synaptic GABAᴀ receptors. In postpartum depression, the GABA pathway may play a key role in regulating hormones that researchers believe can lead to PPD.
Up to 20 percent of all women giving birth globally will develop PPD, with 40 to 80 percent experiencing moderate to severe PPD. The mood disorder can develop during pregnancy and up to four weeks after giving birth. Women with PPD can experience a variety of symptoms, including depressed mood, feelings of being overwhelmed with anxiety, guilty thoughts, poor concentration and sleep, difficulty bonding with their child, withdrawal from family and friends, thoughts of suicide and fear of not being a good mother. These symptoms experienced by the mother can also have an impact on her child as well, potentially affecting the child's temperament, cognitive and social development.
"With current anti-depressant SSRIs (selective serotonin reuptake inhibitors) it could take four to six weeks to get a treatment response. In the brexanolone trials, we saw patients starting to feel better within days," said Dr. Meltzer-Brody.
The study involved s a new integrated analysis of results from three double-blind, placebo-controlled trials that took place at 30 sites in the U.S., including UNC's Perinatal Psychiatry Unit. Eligible women were aged 18-45 years old and were six months postpartum or less at screening. They also had to be experiencing moderate to severe postpartum depression, which was assessed by the Hamilton Depression Rating Scale (HAM-D).
The integrated analysis looked at results of the trials which randomized 209 women to receive a double-blinded 60-hour infusion of either brexanolone injection 90 µg/kg/hr or placebo. A unique dose group of brexanolone 60 µg/kg/hr in one of the studies was not included in the integrated efficacy analysis but was included in integrated analyses of safety. Brexanolone injection 90 µg/kg/hr was administered to 102 women with moderate or severe PPD who also were evaluated throughout the infusion after the infusion stopped and then periodically for up to 30 days. Another 107 women were administered a placebo and evaluated during the same timeframe.
Key Findings:


The first statistically significant reduction in depression severity with brexanolone injection relative to placebo was observed as early as 24 hours after dosing.


At the end of the 60-hour infusion, the average reduction in patients' Hamilton Rating Scale for Depression (HAM-D or depression severity score) was 17.0 points for women in the brexanolone injection 90 µg/kg/hr group, versus 12.8 in the placebo group (p<0.0001).


The reduction of symptoms in the patients receiving brexanolone injection was maintained throughout the last study visit at Day 30.


The most common (≥10% of subjects) adverse events following during brexanolone injection administration were headache, dizziness, and somnolence.


"This is a very different model for how we treat depression. Having a drug approved to treat PPD that works quickly and effectively, yet is also durable, would be a huge step forward for psychiatry in general," Meltzer-Brody said.
"Administration of brexanolone injection for post-partum depression resulted in significant and clinically meaningful reductions in HAM-D total score at 60 h compared with placebo, with rapid onset of action and durable treatment response during the study period. Our results suggest that brexanolone injection is a novel therapeutic drug for post-partum depression that has the potential to improve treatment options for women with this disorder," concluded the authors.
For further reference log on to
https://doi.org/10.1016/S0140-6736(18)31551-4
Source : With inputs from Lancet