Pasta vs White rice: PP Blood sugar peak significantly lower with Pasta than white rice in diabetes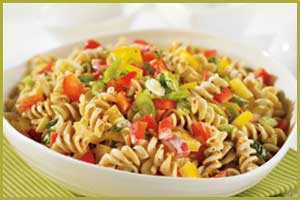 Peak rise in Blood sugar after eating Pasta significantly lower compared to white rice in type 1 diabetes, finds a study.
Food choices made by diabetic people plays an important role in the successful management of blood sugar. A recent study published in the journal Diabetes Technology & Therapeutics has demonstrated the same stating that compared with white rice, peak blood sugar levels were significantly lower for people with type 1 diabetes (T1D) who consumed higher protein pasta.
The postprandial glycemic response is an important determinant of blood sugar control in type 1 diabetes. The carbohydrate content of the meal is considered the main dietary factor influencing postprandial glycemia; accordingly, current guidelines recommend calculating premeal insulin doses based on the amount of carbohydrate of the meal. However, carbohydrate counting may not result in optimal blood sugar control despite the best efforts of the patients, and this may depend on different factors.
David M. Eisenberg, Department of Nutrition, Harvard T.H. Chan School of Public Health, Boston, Massachusetts, and colleagues compared the impact of three carbohydrate-rich meals on the postprandial glycemic response or rise in blood sugar levels in adults with type 1 diabetes.
For the purpose, the researchers performed a randomized in 12 patients with T1D (age 58.7 ± 14.2 years, baseline haemoglobin A1c 7.5% ± 1.3%). Postprandial glycemic response to three meals was compared using continuous glucose monitoring. Meals consisted of:


"higher protein" pasta containing 10 g protein/serving,


regular pasta with 7 g protein/serving, and


extra-long grain white rice


All meals containing 42g of carbohydrate were served with a green salad, homemade tomato sauce and balsamic dressing and were repeated twice in random order. After their insulin bolus, subjects were observed in the clinic for 5 h. The glycemic response was assessed using the glycemic response.
Also Read: Pasta & Rice prepone onset of Menopause : Study
Key findings of the study include:


Compared with white rice, peak glucose levels were significantly lower for higher protein pasta (-32.6 mg/dL) and regular pasta (-43.2 mg/dL).


The difference between the two types of pastas did not reach statistical significance (-11 mg/dL).


Total glucose area under the curve was also significantly higher for white rice compared with both kinds of pasta.


Also Read: Low carbohydrate diet helps in better blood sugar control, finds study
Based on the findings, this is clear that even different food types having the same macronutrient content (rice and pasta) generate a different postprandial glycemic response in patients with type 1 diabetes.
"Our findings provide useful insights into the impact made by our food choice on the optimization of glucose control," concluded the authors.
To read the complete study log on to
https://doi.org/10.1089/dia.2019.0109