Blood sugar control and Mediterranean diet improves cognition in type 2 diabetes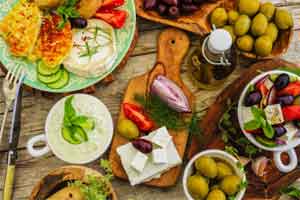 Delhi: Both effective blood sugar control and adherence to the Mediterranean diet may support optimal cognitive function in people with type 2 diabetes, according to a recent study published in the journal Diabetes Care. The Mediterranean diet emphasizes whole grains, fruits, vegetables, healthy unsaturated fats, nuts, legumes and fish and limits red meat, poultry, and full-fat dairy.
Following a Mediterranean diet can help people with type 2 diabetes improve blood sugar control and lose weight, all the while satisfying the taste buds with fresh, flavorful ingredients.
The cognitive improvements, associated with a Mediterranean diet, however, was not seen in people without type 2 diabetes. This suggests different pathways linking diet to cognition among individuals with and without diabetes. The study found that healthy diets, in general, can help improve memory function among adults without type 2 diabetes.
Adults with type 2 diabetes are more likely to have lower cognition than those without. Blood sugar control further influence cognition as a higher concentration of haemoglobin A1c is associated with a decline in cognitive function and lower memory. Consumption of the Mediterranean diet is associated with control and prevention of type 2 diabetes, suggesting its benefit for both cognition and type 2 diabetes. However, there is a lack of definite evidence on the link between the Mediterranean diet and cognitive function in type 2 diabetes patients.
Josiemer Mattei, Department of Nutrition, Harvard T.H. Chan School of Public Health, Boston, MA, and colleagues determined associations of a Mediterranean diet score (MeDS) with 2-year change in cognitive function by type 2 diabetes and glycemic control status and contrast it against other diet quality scores.
For the purpose, the researchers used data from the Boston Puerto Rican Health Study -- a longitudinal cohort of about 1,499 adults aged 45-75 years who lived in Boston.
Participants were given a questionnaire enquiring about their eating patterns. They analyzed four diet-quality scores – Mediterranean Diet Score, Healthy Eating Index, the Alternate Healthy Eating Index, and DASH (Dietary Approaches to Stop Hypertension). The participants were then screened for diabetes and were made to undergo a number of cognitive tests including the Mini-Mental State Exam and tests for verbal fluency, executive function, word recognition, and figure copying.
The study endpoints included a 2-year change in global cognitive function as well as executive and memory function. At 2 years, data was available for 913 participants.
Also Read: Mediterranean Diet during pregnancy may reduce risk of Gestational Diabetes
"Dietary recommendations for cognitive health may need to be tailored for individuals with versus without type 2 diabetes," concluded the authors.
To read the complete study follow the link:
https://doi.org/10.2337/dc19-0130