Mediterranean Diet during pregnancy may reduce risk of Gestational Diabetes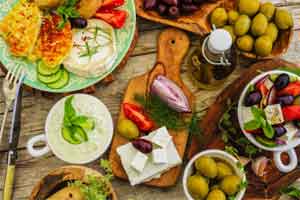 Mediterranean Diet during pregnancy may reduce risk of Gestational Diabetes in high risk females, finds a new study.
According to a randomized clinical trial,women who follow a Mediterranean-style diet in pregnancy might lower their risk for gestational diabetes. The results of the clinical trial have appeared in PLOS One.
Pregnant women with metabolic risk factors are at high risk of complications. The researchers conducted the study to assess whether a Mediterranean-style diet reduces adverse pregnancy outcomes in high-risk women.
The Mediterranean-style diet has fewer meats and carbohydrates than a typical American diet. It also has more plant-based foods and monounsaturated fat. People who live in Italy, Spain, and other countries in the Mediterranean region have eaten this way for centuries.
Following the Mediterranean diet may lead to more stable blood sugar, lower cholesterol and triglycerides, and a lower risk for heart disease and other health problems.
In the study nearly 1300 inner-city U.K. women who were less than 18 weeks' pregnant and had at least one metabolic risk factor (e.g., obesity, high triglycerides) were randomized to a Mediterranean diet (see second link below) or usual care. Women in the intervention group had three in-person sessions with the study dietitian and researchers, received a culturally sensitive recipe book, and were given mixed nuts and extra virgin olive oil.
The researchers found that simple, individualised, Mediterranean-style diet in pregnancy did not reduce the overall risk of adverse maternal and offspring complications but has the potential to reduce gestational weight gain and the risk of gestational diabetes.
The study's primary composite endpoints — one comprising gestational diabetes and preeclampsia, the other comprising stillbirth, small-for-gestational-age fetus, and neonatal ICU admission — did not differ significantly between the groups. However, risk for gestational diabetes alone was significantly lower with the Mediterranean diet than with usual care .Women in the diet group also gained about 1 kg less weight during pregnancy.
For further reference log on to:
PLOS One article