Biosensor fitted glasses a painless method of measuring blood sugar in diabetes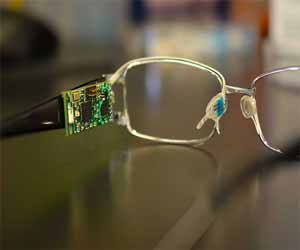 Glasses-based biosensor capable of measuring blood sugar levels through a person's tears.
Brazil: Researchers from the University of São Paulo in Brazil and the University of California, in San Diego, have developed a pioneering pair of glasses with biosensors that could measure blood sugar levels -- offering a less invasive test for diabetics. The study is published in the journal Biosensors and Bioelectronics.
According to WHO, Diabetes is a chronic, metabolic disease characterized by elevated levels of blood glucose (or blood sugar), which leads over time to serious damage to the heart, blood vessels, eyes, kidneys, and nerves. The number of people with diabetes has risen from 108 million in 1980 to 422 million in 2014 and it continues to rise at an alarming rate. By 2035, it could affect 580 million people.
Blood sugar levels are commonly measured using a portable glucometer that involves pricking of the fingertips to get a blood sample. This process can be painful and also, carries a risk of infection.
Read Also: Not blood sugar- Now eye lens analysis shall predict future risk of diabetes
The biosensors-fitted glasses have a small sensor stationed on the nose pads which can get close to the tear duct. The sensor then measures the glucose concentration in tears. Glucose levels in the tears increases and decreases in correspondence to the levels of glucose in the blood. This provides a reliable approximation of blood glucose levels.
The Brazilian biosensor can identify an enzyme called glucose oxidase — widely used to detect free glucose in body fluids — in tears, eliminating the need for finger pricking. It can also measure blood sugar, vitamin and alcohol levels.
Biosensors can measure biological or chemical reactions and generate a signal proportional to the concentration of a particular substance. They are increasingly being designed and used to speed up laboratory test results, monitor health conditions, and diagnose and prevent disease, even in some developing countries such as Brazil.
Read Also: Type 2 diabetes: Eye device that measures blood sugar levels granted patent
While the concept is certainly different, there's a question of how much of a benefit the glasses would have compared with flash glucose monitors or continuous glucose monitors that do not require tears to be manually stimulated.
If the researchers are to continue developing the glasses, they may need to ensure that the sensor does not present any possibility of accidental eye injury.
The researchers do not yet have a date in mind for when the glasses could be commercialized.
"The concentrations of various metabolites in tears reflect concurrent blood levels, making them an attractive medium for non-invasive monitoring of physiological parameters," said lead researcher Laís Canniatti Brazaca, a physician and researcher at the São Carlos Chemistry Institute.
The study, "Eyeglasses-based tear biosensing system: Non-invasive detection of alcohol, vitamins, and glucose," is published in the journal Biosensors and Bioelectronics.
Source : Biosensors and Bioelectronics