Better Diabetes control reduces risk of Uveitis in diabetics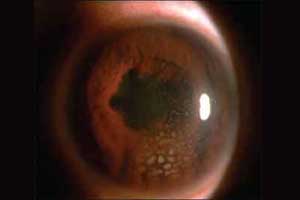 Improved glycemic control reduces the risk of uveitis in individuals with diabetes, reports a new study published in the Journal of Diabetes and its Complications. The patients with diabetes have a higher incidence of acute uveitis, while those with type 1 and poor glycemic control are at the highest risk of developing eye inflammation.
Uveitis is the inflammation of the uvea, the pigmented layer that lies between the inner retina and the outer fibrous layer composed of the sclera and cornea. Uveitis is a sight-threatening inflammatory disease affecting the uveal layer of the eye. It is responsible for an estimated 30,000 new cases of legal blindness annually in the USA.
Ansari et al. conducted a study to characterize the risk of uveitis, scleritis or episcleritis in relation to diabetes, glycaemic control, and co-existence of retinopathy.
The investigators established the prevalence of acute uveitis and scleritis or episcleritis over a six-year period among populations without(n = 889,856) diabetes and with diabetes(n = 48,584). The primary outcome was the evaluation of the impact of glycaemic control on disease risk.
Read Also:
Latest recommendations for JIA associated uveitis
Study findings:


The incidence of acute uveitis was higher among patients with diabetes.


Glycaemic control was established as an important effect modifier for uveitis risk, whereby those with poorer control suffered higher disease burden.


There was a dose-response relationship between glycemic control and uveitis risk, with the risk almost five times higher in individuals classified as having very poor glycemic control, defined as HbA1c >11.3%


Individuals with proliferative retinopathy were also at greater risk for uveitis. However, these results were not maintained for scleritis or episcleritis.


"Acute uveitis is more common in patients with diabetes; at highest risk are those with type 1 disease with poor glycaemic control. Glycaemic improvements may prevent recurrence," write the authors.
For reference log on to
10.1016/j.jdiacomp.2018.03.008
Source : With inputs from Journal of Diabetes and its Complications