Eating low carbohydrate foods may reduce gout attacks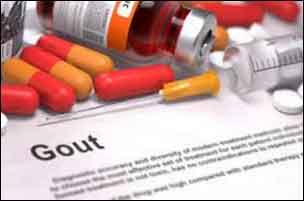 USA: Consumption of low carbohydrate foods or diet lower on the glycemic index could prevent the occurrence of gout flares compared to reducing overall carbohydrate intake by lowering uric acid concentrations, suggests a recent study. Low carbohydrate foods or lower glycemic index foods include oatmeal, sweet potato, lentils, peas, corn, most fruits and non-starchy vegetables.
The study, published in the journal Arthritis and Rheumatology, is based on data from the OmniCarb trial, a low-carbohydrate, higher protein dietary study.
A gout is a debilitating form of inflammatory arthritis caused by the accumulation of uric acid in the joint. Pharmacologic therapies have focused on the reduction of uric acid levels. However, urate-lowering therapies have some associated adverse effects. In lieu of this, dietary interventions could be an alternative option for drug therapy, particularly among people with mild gout.
Edgar R. Miller III, M.D., Ph.D., of Johns Hopkins Medical Institutions, and colleagues conducted the study to assess the effects of low carbohydrate foods on the plasma uric acid levels by examining the quantity and intake of foods high and low on carbohydrates.
For the purpose, they conducted a randomized, crossover study that compared the 4 different diets in 163 overweight or obese adults without cardiovascular disease over the time duration of four weeks. The 4 diets were:


the high glycemic index (≥65) with a high percentage of carbohydrates (58% kcal),


the low glycemic index (≤45) with a low percentage of carbohydrates (40% kcal),


low glycemic index with a high percentage of carbohydrates, and


high glycemic index with a low percentage of carbohydrates.


Plasma uric acid levels were measured at baseline and after completion of each 5‐week period for comparison between the 4 diets.
Also Read: High intake of fruit juice and sugar loaded beverages tied to gout
Key findings of the study include:


Of the 163 study participants, 52% were women and 50% were non‐Hispanic African American subjects; their mean age was 52.6 years, and their mean ± SD uric acid level was 4.7 ± 1.2 mg/dl.


Reducing the glycemic index lowered uric acid levels when the percentage of carbohydrates was low (−0.24 mg/dl) or high (−0.17 mg/dl).


Reducing the percentage of carbohydrates marginally increased the uric acid level only when the glycemic index was high,


The combined effect of lowering the glycemic index and increasing the percentage of carbohydrates was −0.27 mg/dl. his effect was observed even after adjustment for concurrent changes in kidney function, insulin sensitivity, and products of glycolysis.


Also Read: Omega-3 fatty acids may prevent recurrent gout attacks
"The greatest difference in uric acid levels was observed when the glycemic index was reduced and the number of carbohydrates was increased simultaneously, suggesting that adopting a diet rich in low glycemic index carbohydrates may result in the greatest reduction in uric acid levels. However, changing the glycemic index seemed to be more important than changing the carbohydrate proportion with regard to uric acid reduction," the authors wrote.
"We found that reducing the glycemic index lowered uric acid concentrations while reducing the carbohydrate intake (or higher protein/fat) increased uric acid concentrations. Future studies should examine these dietary effects in persons with clinically elevated uric acid concentrations and gout to determine whether reducing the glycemic index can prevent gout or gout exacerbations," they concluded.
For complete study follow the link:
https://doi.org/10.1002/art.39527