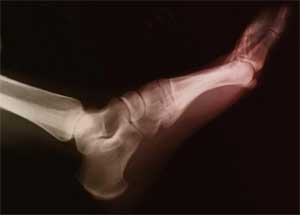 Arthroscopic guided fixation of the posterior malleolar fractures is an effective treatment modality that achieves direct reduction of the fracture, faster rehabilitation, and has a lower risk of neurovascular complications, according to a study recently published in the journal Current Orthopaedic Practice.
Posterior malleolar fractures are not uncommon ankle injuries with an occurrence rate of 7% to 44% among ankle fractures. Despite their biomechanical significance for syndesmotic stability and stress distribution, there is no consensus about which fractures to treat surgically
Diab and his associates conducted a study to evaluate arthroscopic guided fixation of posterior malleolar fractures. This technique is hypothesized to provide visualized optimal reduction in a minimally invasive manner.
The prospective study included twelve consecutive ankle injuries with a posterior malleolar fracture. The standard procedure included posterior ankle arthroscopic guided reduction and cannulated screw fixation of the posterior malleolus.
Patients included in this study had to fulfill at least one of the following parameters:
Fractured fragment of at least 20% of the articular surface.
More than 2 mm displacement of the fractured fragment.
Associated tarsal fractures as an indicator of instability.
Exclusion criteria included patients with epiphyseal fractures, open fractures, previous ankle fracture on the same side, and patients who required syndesmotic screw fixation.
Key findings of the study:
Postoperatively, all radiographs showed a good reduction of the posterior malleolus and an even joint, with a mean tibiofibular clear space of 4.2 mm.
All patients had returned to their preinjury activity levels at their final follow-up.
The mean FAOS score for patients included in the study was 92.46, and the mean Ankle-Hindfoot score was 92.0.
Adequate range of motion was achieved in relation to the contralateral ankle.
Read Also: Casting & surgery equally effective in ankle fractures in Elderly
The study concluded arthroscopic guided reduction and fixation of such fractures represents a satisfactory technique that permits direct visualization and management of the fracture yet with a minimally invasive approach that minimizes complications of open surgery and enhances early recovery.
For more reference log on to https://journals.lww.com/c-orthopaedicpractice/Abstract/2018/05000/Arthroscopy_assisted_fixation_of_posterior.14.aspx