Casting & surgery equally effective in ankle fractures in Elderly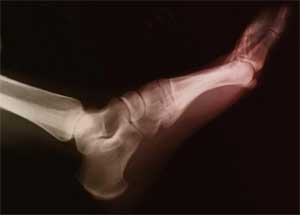 Dr.David J. Keene, DPhil and colleagues conducted a randomized clinical trial of close contact casting vs the usual practice of surgery for treating unstable ankle fractures in older adults for the Ankle Injury Management (AIM) Trial Collaborators.The researchers found that among older adults with an ankle fracture, long-term ankle function is similar whether they undergo casting or surgery, The study appears in JAMA.
In the original trial, 620 patients aged 60 and older with ankle fracture were randomized to receive either close contact casting or surgery. At 6 months, function scores were equivalent between groups. Now, after a median of 3 years' follow-up, function scores are still equivalent. Of note, patients with malleolar malunion or median malleolar nonunion at 6 months had lower long-term function scores than patients without such abnormalities, regardless of treatment.
There were an equivalent ankle function outcomes at 6 months in both procedures. Higher rates of radiological ankle malunion in the casting vs surgical groups (15% vs 3%, respectively) and nonunion (medial malleolus: 7% vs 1%, respectively) suggested that equivalence between the 2 groups may be lost if symptoms or functional limitations from posttraumatic arthritis manifest later.A follow-up at least 3 years after randomization was conducted to determine if equivalence persisted over time.
The authors conclude: "The findings indicate that treatment of ankle fractures in older adults should focus on obtaining and maintaining a reduction until union, by the most conservative means possible."
For further reference log on to : doi:10.1001/jama.2018.0811
Source : With inputs JAMA