Bariatric surgery lowers heart attack risk in diabetes: JAMA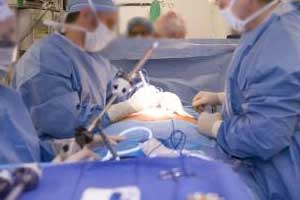 Bariatric surgery may help in lowering the risk of strokes and heart attacks in patients with type 2 diabetes (T2D) and severe obesity, suggests a new study published in Journal of the American Medical Association (JAMA). The study reinforces that the benefits of obesity surgery extend beyond weight loss.
David P. Fisher, The Permanente Medical Group, Kaiser Permanente Northern California, Oakland, and colleagues conducted the study to investigate the relationship between bariatric surgery and incident macrovascular (coronary artery disease and cerebrovascular diseases) events in patients with severe obesity and T2D.
In this retrospective, matched cohort study, the researchers tracked about 20,000 severely obese patients with T2D. patients with severe obesity (body mass index ≥35) aged 19 to 79 years with diabetes who underwent bariatric surgery from 2005 to 2011 in 4 integrated health systems in the United States (n = 5301) were matched to 14 934 control patients on site, age, sex, body mass index, hemoglobin A1c, insulin use, observed diabetes duration, and prior health care utilization, with follow-up through September 2015.
Also Read: Bariatric surgery reduces risk of microvascular complications in diabetes
Everyone in the study had a BMI, or body mass index, of at least 35. For instance, someone who is 5-foot-8-inches and weighs 230 pounds has a BMI of 35.
Of the more than 5,300 who had surgery, most had gastric bypass, the most common type of stomach-shrinking operation. Some had a gastric sleeve or gastric band procedures. The rest, nearly 15,000 people, had usual care.
Also Read: Pill that offers same benefits as bariatric surgery in diabetes
Key Findings:


At the end of the study period, there were 106 macrovascular events in surgical patients (including 37 cerebrovascular and 78 coronary artery events over a median of 4.7 years; interquartile range, 3.2-6.2 years) and 596 events in the matched control patients (including 227 cerebrovascular and 398 coronary artery events over a median of 4.6 years; interquartile range, 3.1-6.1 years).


Bariatric surgery was associated with a lower composite incidence of macrovascular events at 5 years (2.1% in the surgical group vs 4.3% in the nonsurgical group; hazard ratio, 0.60 [95% CI, 0.42-0.86]), as well as a lower incidence of coronary artery disease (1.6% in the surgical group vs 2.8% in the nonsurgical group; hazard ratio, 0.64 [95% CI, 0.42-0.99]).


The incidence of cerebrovascular disease was not significantly different between groups at 5 years (0.7% in the surgical group vs 1.7% in the nonsurgical group; hazard ratio, 0.69 [95% CI, 0.38-1.25]).


Other research has shown obesity surgery can reverse and even prevent diabetes. Taken together, it means doctors should discuss weight loss surgery more often, said study co-author Dr. David Arterburn of Kaiser Permanente Washington Health Research Institute in Seattle.
Doctors usually mention insulin and pills, "but it's not always brought up that weight loss surgery is another available treatment option," Arterburn said.
Obesity surgery can cost $20,000 to $25,000. Insurers are increasingly covering it, but some impose strict limits.
The new findings suggest insurance coverage should be expanded for the right patients, Dr. Sayeed Ikramuddin of the University of Minnesota wrote in an accompanying editorial.
Surgery is thought to help by affecting hormones, gut bacteria and other substances that affect how the body handles insulin and blood sugar. Weight loss without surgery also helps but is difficult for many people to achieve.
Most weight loss surgery today is done through small incisions. The dangers are similar to other surgeries, including a small chance of life-threatening complications, and some people need to have their surgeries repeated.
"In this observational study of patients with type 2 diabetes and severe obesity who underwent surgery, compared with those who did not undergo surgery, bariatric surgery was associated with a lower risk of macrovascular outcomes," concluded the authors.
For further reference log on to
10.1001/jama.2018.14619
Source : With inputs from JAMA