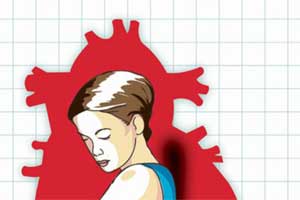 Psychological distress such as anxiety and depression in adults aged 45 or older is associated with an increased risk of cardiovascular disease including heart attack, according to a new study published in the journal Circulation: Cardiovascular Quality and Outcomes. 
Caroline A. Jackson, University of Edinburgh, Edinburgh, Scotland, and colleagues conducted the study to determine the association between psychological distress and MI and stroke with age and sex.
Mental disorders and their symptoms are thought to be associated with increased risk of heart disease and stroke, but previous studies have produced inconsistent findings and the interplay between mental and physical health is poorly understood.
People with symptoms of psychological distress should be encouraged to seek medical help because, aside from the impact on their mental health, symptoms of psychological distress appear to also impact physical health, Jackson said. "We encourage more proactive screening for symptoms of psychological distress. Clinicians should actively screen for cardiovascular risk factors in people with these mental health symptoms."
In a study of 221,677 participants from Australia, researchers found that:
among women, high/very high psychological distress was associated with a 44 percent increased risk of stroke; and
in men aged 45 to 79, high/very high versus low psychological distress was associated with a 30 percent increased risk of heart attack, with weaker estimates in those 80 years old or older.
The association between psychological distress and increased cardiovascular disease risk was present even after accounting for lifestyle behaviors (smoking, alcohol intake, dietary habits, etc.) and disease history.
"While these factors might explain some of the observed increased risk, they do not appear to account for all of it, indicating that other mechanisms are likely to be important," said Dr. Jackson.
The research involved participants who had not experienced a heart attack or stroke at the start of the study and who were part of the New South Wales 45 and Up Study that recruited adults ages 45 or older between 2006 and 2009.
Also Read: Treating depression reduces risk of second heart attack: JAMA
Researchers categorized psychological distress as low, medium and high/very high using a standard psychological distress scale which asks people to self-assess the level.
Of the participants – 102,039 men (average age 62) and 119,638 women (average age 60) – 16.2 percent reported having moderate psychological distress and 7.3 percent had high/very high psychological distress.
During follow-up of more than four years, 4,573 heart attacks and 2,421 strokes occurred. The absolute risk – overall risk of developing a disease in a certain time period – of heart attack and stroke rose with each level of psychological distress.
The findings add to the existing evidence that there may be an association between psychological distress and increased risk of heart attack and stroke, she said. But they also support the need for future studies focused on the underlying mechanisms connecting psychological distress and cardiovascular disease and stroke risk and look to replicate the differences between men and women.
"Psychological distress has a strong, dose-dependent, positive association with MI and stroke in men and women, despite adjustment for a wide range of confounders," concluded the authors.
For further reference follow the link: http://dx.doi.org/10.1161/CIRCOUTCOMES.117.004500