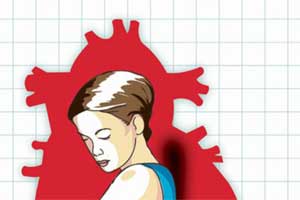 A new study of 300 heart patients with depression, published in the journal JAMA has found that treatment with escitalopram (antidepressant) may help in lowering the risk of second heart attack in such patients.
Depression has been associated with poorer medical outcomes in acute coronary syndrome (ACS), including heart attack and unstable angina, but there is a limited data on the effects of antidepressant treatment on long-term prognosis. Jae-Min Kim, Department of Psychiatry, Chonnam National University Medical School, Republic of Korea, and colleagues conducted the study to investigate the effect on long-term major adverse cardiac events (MACE) of escitalopram treatment of depression in patients with recent ACS.
In this randomized, double-blind, placebo-controlled trial, the researchers analyzed 300 patients with recent ACS and depression. Patients were randomly assigned to receive  either escitalopram in flexible dosages of 5, 10, 15, or 20 mg/d (n = 149) or matched placebo (n = 151) for 24 weeks.
The primary outcome was MACE, a composite of all-cause mortality, myocardial infarction (MI), and percutaneous coronary intervention (PCI). Four secondary outcomes were the individual MACE components of all-cause mortality, cardiac death, MI, and PCI.
Also Read: Depression doubles risk of early death in heart patients : European Heart Journal
 Among 300 randomized patients (mean age, 60 years; 119 women [39.3%]), 100% completed a median of 8.1 (interquartile range, 7.5-9.0) years of follow-up
Key Findings:
MACE occurred in 61 patients (40.9%) receiving escitalopram and in 81 (53.6%) receiving placebo.
Comparing individual MACE outcomes between the escitalopram and placebo groups, respectively, incidences for all-cause mortality were 20.8% vs 24.5% for cardiac death, 10.7% vs 13.2% for MI, 8.7% vs 15.2%, and for PCI, 12.8% vs 19.9%.
Patients on the medication also had a lower death rate and less need for angioplasty.
"Among patients with depression following recent ACS, 24-week treatment with escitalopram compared with placebo resulted in a lower risk of MACE after a median of 8.1 years. Further research is needed to assess the generalizability of these findings," concluded the authors.

For further information log on to 10.1001/jama.2018.9422