Antibiotics use linked to higher risk of rheumatoid arthritis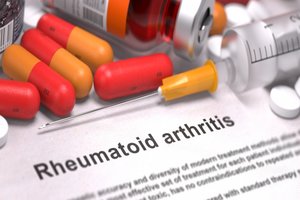 UK: People exposed to antibiotics are at a 60% higher risk of developing rheumatoid arthritis (RA), suggests a recent study in the journal BMC Medicine. This could be due to antibiotic-induced disturbances of the human microbiota or underlying infections.
Rheumatoid arthritis is a chronic inflammatory disease of joints. Commonly it is characterized by pain, swelling, and stiffness of joints and is treated using synthetic and biological antirheumatic drugs.
Microbiota disturbances induced by antibiotics have been implicated in the development of chronic autoimmune conditions. Alyshah Abdul Sultan, Keele University, Keele, UK, and colleagues aimed to assess whether antibiotic use is associated with the onset of rheumatoid arthritis.
For the study, the researchers used a large database of UK primary care medical records and identified 22,677 patients with RA from 1990 through 2017. They then matched them with 90,013 controls and followed them for 10 years before RA diagnosis.
Also Read: Smoking Cessation reduces risks of Rheumatoid Arthritis among women, finds study
Key findings include:


The odds of developing RA were 60% higher in those exposed to antibiotics than in those not exposed.


A dose- or frequency-dependent association was observed between the number of previous antibiotic prescriptions and RA.


All classes of antibiotics were associated with higher odds of RA, with bactericidal antibiotics carrying a higher risk than bacteriostatic (45% vs. 31%).


Those with antibiotic-treated upper respiratory tract (URT) infections were more likely to be RA cases


This was not observed for URT infections not treated with antibiotics.


Antifungal and antiviral prescriptions were also associated with increased odds of RA.


Also Read: Baricitinib effective for rheumatoid arthritis patients unresponsive to methotrexate
The authors of the study suggest the association between RA and antibiotic use could be linked to disruption of the gut microbiota, but they caution that more, as it is unclear at this point whether the major driver is antibiotic use or the underlying infection.
"These observations require extensive additional studies to (both case-controlled and mechanistic) to determine direct causation," they write.
To read the complete study follow the link:
https://doi.org/10.1186/s12916-019-1394-6