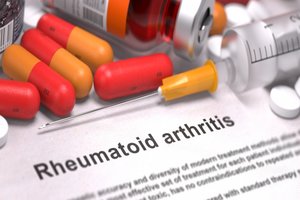 Delhi: Patients with rheumatoid arthritis (RA) who did not respond to methotrexate (MTX) had improved disease control when treated with baricitinib monotherapy or baricitinib plus MTX, finds a recent study published in the journal Arthritis Care & Research.
Roy Fleischmann, Metroplex Clinical Research Center, University of Texas Southwestern Medical Center, Dallas, TX, USA, and colleagues conducted this study to evaluate the long‐term efficacy and safety of maintaining baricitinib monotherapy in patients with active rheumatoid arthritis originally treated with baricitinib monotherapy or switched from methotrexate (MTX) or the combination of baricitinib plus MTX to baricitinib monotherapy.
The study involved a post-hoc analysis of patients from RA‐BEGIN who entered a long‐term extension, RA‐BEYOND, and were assessed up to 24 weeks.
In RA‐BEGIN, MTX‐naïve patients with early active RA were randomized to MTX monotherapy, baricitinib 4‐mg monotherapy, or baricitinib 4‐mg plus MTX. At Week 52, all patients entering RA‐BEYOND received baricitinib 4‐mg monotherapy. MTX could be prescribed during RA‐BEYOND at the investigator's discretion.
"Many patients and physicians prefer monotherapy treatment for numerous reasons including cost and decreased potential toxicity," Dr.Fleischmann, told Healio Rheumatology. "This post hoc analysis was designed to investigate what percentage of patients could do well clinically, ascertained by [Simplified Disease Activity Index] remission of [low disease activity], on baricitinib monotherapy 4 mg and what were the major characteristics that could predict doing so."
"Only approximately one-third of patients with RA achieve sustained remission or low disease activity with [methotrexate] while many others may discontinue their treatment due to intolerance," Fleischmann and colleagues wrote. "For this reason, alternative treatment strategies are utilized, including adding or switching to other [conventional synthetic] DMARDs, biological DMARDs (bDMARDs), or targeted synthetic DMARDs (tsDMARDs)."
Also Read: Tofacitinib monotherapy effective in rheumatoid arthritis after methotrexate withdrawal
Key findings of the study include:
Among the 423 RA-BEYOND participants included in the analysis, 47% continued baricitinib monotherapy, while 53% received additional methotrexate.
Participants with lower disease activity at RABEYOND baseline generally continued their success with baricitinib monotherapy, based on scores from the Simplified Disease Activity Index (SDAI), the Clinical Disease Activity Index (CDAI) and the Health Assessment QuestionnaireDisability Index.
Participants who received methotrexate demonstrated higher disease activity at RABEYOND baseline.
The addition of methotrexate improved disease activity in these cases. Safety outcomes were similar across all treatment groups.
Many patients responded well to continued baricitinib monotherapy 4 mg or to switching to baricitinib monotherapy 4 mg from methotrexate monotherapy, or baricitinib 4 mg plus methotrexate, showing sustained or improved disease control.
The groups of patients who had less disease control on their original therapies showed sustained or improved disease control with the addition of methotrexate to baricitinib 4 mg.
A patient on baricitinib plus methotrexate who has achieved a sustained level of good disease control ascertained by SDAI or CDAI most likely will continue to do well with baricitinib monotherapy.
Also Read: Rheumatoid arthritis patients at increased risk of metabolic syndrome, CVD: PGIMER Study
"Many patients responded well to continued baricitinib monotherapy or to switching to baricitinib monotherapy from MTX monotherapy or baricitinib plus MTX, showing sustained or improved disease control," wrote the authors. "The groups of patients who had less disease control on their original therapies showed sustained or improved disease control with the addition of MTX to baricitinib."
To read the complete study log on to https://doi.org/10.1002/acr.24007