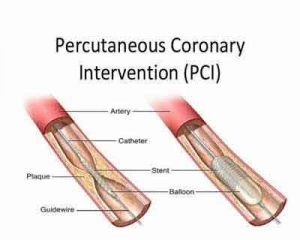 A new study finds that Primary PCI is beneficial even beyond 12 hours of onset of Heart attack symptoms.
STEMI patients with signs of ongoing ischemia treated with primary PCI (percutaneous coronary intervention) 12 to 72 hours after symptom onset had less myocardial salvage and developed larger infarcts, according to a new study published in the Circulation: Cardiovascular Interventions. However, a large proportion achieved substantial myocardial salvage indicating a benefit from primary PCI in late-presenting patients.
Guidelines recommend primary PCI in patients with ST-segment–elevation myocardial infarction (STEMI) presenting ≥12 hours of symptom onset in the presence of ongoing ischemia. However, data supporting this recommendation are limited.
Lars Nepper-Christensen, Department of Cardiology, Copenhagen University Hospital, Copenhagen, Denmark, and colleagues conducted the study to d the effect of primary PCI on reperfusion success, using cardiac magnetic resonance, in STEMI patients with signs of ongoing ischemia presenting 12 to 72 hours after symptom onset compared with STEMI patients presenting <12 hours.
For the study, the authors assessed  865 STEMI patients who underwent cardiac magnetic resonance just after index PCI and 3 months later.
Also Read: Women under-treated for STEMI and have double mortality rate than men
Key Findings:
Despite equal area at risk (34±12% versus 33±12%; P=0.370), patients presenting late (n=58) had larger final infarct size (13% [interquartile range, 9–24] versus 11% [interquartile range, 4–19]; P=0.037) and smaller myocardial salvage index (0.58 [interquartile range, 0.39–0.71] versus 0.65 [interquartile range, 0.49–0.84]; P=0.021) compared with patients presenting <12 hours after symptom onset (n=807).
65% of late-presenting patients achieved substantial myocardial salvage ≥0.50, and area under the curve for symptom onset to PCI as a predictor of a myocardial salvage index ≥0.50 was poor (0.58 [95% CI, 0.53–0.63]; P<0.001).
Final infarct size, salvage index and left ventricular function correlated weakly with duration from symptom onset to primary PCI (R2 values <0.05).
"Substantial myocardial salvage can be achieved in patients with STEMI beyond 12 hours of symptoms," write the authors. "Duration from symptom onset to percutaneous coronary intervention is not able to identify a specific time limit as a cutoff point for offering STEMI patients with clinical signs of ongoing ischemia primary angioplasty."
For further reference follow the link: https://doi.org/10.1161/CIRCINTERVENTIONS.118.006842
The following two tabs change content below.
Medha Baranwal
Medha Baranwal joined Medical Dialogues as a Desk Editor in 2018 for Speciality Medical Dialogues. She covers several medical specialties including Cardiac Sciences, Dentistry, Diabetes and Endo, Diagnostics, ENT, Gastroenterology, Neurosciences, and Radiology. She has completed her Bachelors in Biomedical Sciences from DU and then pursued Masters in Biotechnology from Amity University. She can be contacted at medha@medicaldialogues.in. Contact no. 011-43720751
Latest posts by Medha Baranwal (see all)