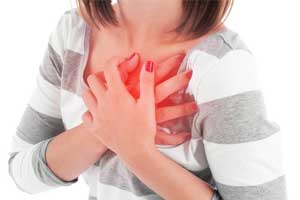 Women with  ST-elevation myocardial infarction (STEMI) are half as likely to receive appropriate tests and proper treatment as men, and more than the double mortality rates six months after hospital admission, according to a study published in the Medical Journal of Australia.
Ehsan Khan and his associates conducted a study to examine whether there are sex differences in the characteristics, management, and clinical outcomes of patients with an ST-elevation myocardial infarction (STEMI).
The study included 2898 patients out of which 2182 were men and 715 were women. The median age of women presenting with STEMI was 66.6 years and that of men was 60.5 years. The primary outcome measured was total revascularisation, a composite endpoint encompassing patients receiving PCI (percutaneous coronary intervention), thrombolysis, or coronary artery bypass grafting (CABG) during the index admission.
Secondary outcomes were timely vascularisation rates, major adverse cardiac event rates, clinical outcomes and preventive treatments at discharge, mortality in hospital and 6 months after admission.
The study found that:
The proportions of women with hypertension, diabetes, prior stroke, chronic kidney disease, chronic heart failure, or dementia were larger than those of men.
Fewer women had histories of previous coronary artery disease or myocardial infarction, or of prior PCI or CABG.
Women were less likely to have undergone coronary angiography.
They were less likely to have received timely revascularisation or primary PCI.
Six months after admission, the rates of major adverse cardiovascular events and mortality were higher for women.
At discharge, significantly fewer women than men received β-blockers, statins, and referrals to cardiac rehabilitation.
Read Also: Women 5 times more susceptible to Non-obstructive heart attack than men
"We focused on patients with ST-Elevation Myocardial Infarction because the clinical presentation and diagnosis of this condition is fairly consistent, and patients should receive a standardized management plan," said the University of Sydney's Professor Clara Chow who is a cardiologist at Westmead hospital, the study's senior author.
"It might be due to the poor awareness that women with STEMI are generally at higher risk, or by a preference for subjectively assessing risk rather than applying more reliable, objective risk prediction tools.

"Whatever the cause, these differences aren't justified. We need to do more research to discover why women suffering serious heart attacks are being under-investigated by health services and urgently identify ways to redress the disparity in treatment and health outcomes."
A STEMI or ST-elevation myocardial infarction occurs when a fatty deposit on an arterial wall causes a sudden and complete blockage of blood to the heart, depriving it of oxygen and causing damage to the heart muscle. Its diagnosis is done initially through ECG that reveals a tell-tale ECG signature. These heart attacks can cause sudden death due to ventricular fibrillation or acute heart failure.
For more reference log on to the journal