Allergic reactions to foods are milder in infants compared to older Kids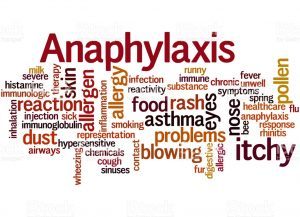 Toddlers and older children are more prone to severe symptoms of food-induced anaphylaxis(FIA) than infants, according to a study published in the Annals of Allergy, Asthma, and Immunology. Anaphylaxis is defined as an allergic reaction that involves multiple systems in the body or a presentation with significant cardiac or respiratory symptoms.
The study found that anaphylaxis in infants may cause hives and vomiting while in older children an allergic reaction to food can be life-threatening.
"We found that infants, unlike older children, have a low-severity food-induced anaphylaxis, which should come as reassuring news to parents who are about to introduce their baby to potentially allergenic foods like peanuts," says lead author Waheeda Samady, MD, from Lurie Children's, who also is an Assistant Professor of Pediatrics at Northwestern University Feinberg School of Medicine. "Since the early introduction of peanuts is now encouraged by national guidelines, it is understandable that parents might be fearful of triggering a serious reaction."
The latest guidelines from the National Institute of Allergy and Infectious Diseases, released in January 2017, recommend that infants be introduced to peanut-containing foods between 4 and 6 months of age. These current guidelines show a paradigm shift from previous recommendations to avoid the early introduction of peanut-containing products. The current guidelines are based on a study demonstrating that early peanut introduction to high-risk infants significantly decreased their risk of developing the peanut allergy.
Dr. Samady and his associates conducted a retrospective review of children to describe food-induced anaphylaxis in infant presented with this condition over a period of two years. A total of 357 cases of FIA were evaluated: 47 in infants (<12 months), 43 in toddlers (12 to 24 months), 96 in young children (2 to 6 years), and 171 in school-aged children (>6 years).
Read Also:
Intranasal Epinephrine an effective route for Anaphylaxis treatment
The study found that:


Infants presented with gastrointestinal symptoms more frequently than any other age group (89 percent of infants vs. 63 percent of toddlers, 60 percent of young children and 58 percent of school-aged children).


Vomiting, in particular, was present in 83 percent of infants.


Infants and toddlers also presented with skin involvement more often than school-aged children (94 percent in infants and 91 percent in toddlers vs. 62 percent in school-aged children), with hives as the most common skin manifestation found in 70 percent of infants.


Any respiratory symptoms including a cough were more common in older age groups (17 percent in infants vs. 44 percent in young children and 54 percent in school-aged children).


Only one infant in the study presented with wheezing. Low blood pressure also was present in only one infant. No infant in the study died from anaphylaxis.


The study concluded that Infants with Food-Induced Anaphylaxis(FIA) primarily presented with gastrointestinal and skin related disorders. Most infants with FIA did not have eczema or a history of food allergy.
Source : With inputs from the journal Annals of Allergy, Asthma, and Immunology