Intranasal Epinephrine an effective route for Anaphylaxis treatment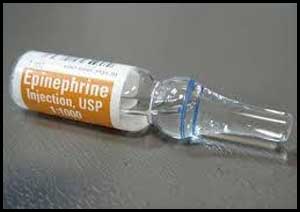 Preliminary results from an early study found that epinephrine delivered intranasally had similar bioavailability to an intramuscular injection of EpiPen (0.3mg; Mylan), announced INSYS Therapeutics.
Epinephrine acts on both alpha- and beta-adrenergic receptors. Epinephrine lessens the vasodilation and increased vascular permeability that occurs during anaphylaxis by binding to alpha-adrenergic receptors, which leads to loss of intravascular fluid volume and hypotension. Epinephrine causes bronchial smooth muscle relaxation and reduces bronchospasm, wheezing, and dyspnea that may occur during anaphylaxis by acting on beta-adrenergic receptors.
The trial also involved 60 participants with seasonal allergies. The pharmacokinetics showed rapid drug absorption when the intranasal spray was used.
"Because epinephrine is the first-line treatment for anaphylaxis, having other effective delivery options, such as a needleless alternative, may be attractive to patients and healthcare providers, as well as parents, school nurses, first responders and emergency department staff," said Dr David Fleischer of the University of Colorado School of Medicine and Children's Hospital Colorado who served as an advisory board physician.
Commenting on the next steps for development, president, and CEO of INSYS, Saeed Motahari said: "Given that epinephrine is on the FDA shortage list, we look forward to working closely with the Agency to determine the optimal path to making this investigational novel drug delivery system available."
Anaphylaxis is a severe, potentially life-threatening allergic reaction. It can occur within seconds or minutes of exposure to something if one is allergic to certain specific allergens.
Anaphylaxis causes the immune system to release an abundant amount of chemical substances including histamines that may cause shock leading to sudden fall in blood pressure, narrowing of airways with blocked breathing. Signs and symptoms include a weak pulse, nausea, vomiting, and rashes on the skin.