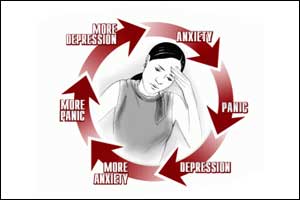 Agomelatine and escitalopram have similar effectiveness in treating generalized anxiety disorder (GAD) patients with severe symptoms. Both drugs were found to be equally effective in reducing psychiatric and somatic symptoms and in improving sleep and alertness is such patients. These are the results of a new study published in the journal European Neuropsychopharmacology. 
Dan J. Stein, University of Cape Town, Cape Town, South Africa, and colleagues conducted the study to evaluate the efficacy of agomelatine (25–50 mg/day) in the treatment of patients with severe GAD, using escitalopram (10–20 mg) as an active comparator.
Severe GAD has a lifetime prevalence of 3.7% across the globe and demonstrates significant disability with considerable social and occupational dysfunction.
Generalized anxiety disorder (GAD) is characterized by persistent worry about relationships, finances, health, and career that interferes with daily activities.
This 12-week double-blind study involved analysis of 523 patients (agomelatine 25 – 50 mg, n=261; escitalopram 10 – 20 mg, n=262) with severe GAD. The patients were assessed using the Hamilton Anxiety Scale (HAM-A) and somatic anxiety sub-scores, the Toronto Hospital Alertness Test (THAT) and the Leeds Sleep Evaluation Questionnaire (LSEQ) score.
Also Read: Anxiety and depression increase risk of heart attack finds new Study
Key results
Treatment with agomelatine and escitalopram showed a significant reduction in HAM-A total score at week 12 (95% CI, −2.26 to 0.44; P=.195).
At week 12, the response rates in the agomelatine group and escitalopram groups were 60.9% and 64.8%, respectively.
At week 12, psychic and somatic anxiety symptoms were significantly improved in both agomelatine and escitalopram groups.

mean change in HAM-A psychic anxiety sub-scores was −8.4±5.1 and −9.0 ±4.7, respectively.
mean change in HAM-A somatic anxiety sub-scores was similar in both the groups (−7.6±4.7 vs −7.9±4.5).

Both the groups showed improvements in LSEQ and THAT scores indicating improved alertness and sleep quality.
Lower incidence of adverse events reported in agomelatine group than escitalopram group (46.9% vs 58.8%).
"Agomelatine and escitalopram are efficacious in treating GAD patients with severe symptoms," concluded the authors.
For further information log on to https://doi.org/10.1016/j.euroneuro.2018.05.006