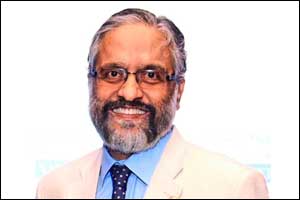 An HbA1C test measures a person's average blood sugar level over the past two or three months. An HbA1C of 6.5 percent indicates diabetes.However, according to new recommendations of American College of Physicians (ACP), there is no proof of benefit for targets of HbA1c below 7%.Therefore in an evidence-based guidance statement, ACP has suggested that HbA1c between 7%  & 8%  was okay for most T2 DM patients. This implies that most patients with type 2 diabetes should be treated to achieve an A1C between 7 percent and 8 percent rather than 6.5 percent to 7 percent published. The updated guidance has been published online in Annals of Internal Medicine.
Read also: HbA1c between 7% and 8% okay for T2DM Patients-New ACP Guidelines
The guidelines have indeed drawn a strong response from practitioners all over, with many debating the salient features of the guidelines. Medical Dialogues team asked Dr Ambrish Mithal, the Chairman and Head of Endocrinology and Diabetes Division at Medanta, the Medicity on what is his response to the guidelines
There-are-4-recommendations-of-the-acp-expert-group. Following are his views on the guidelines
Recommendation-1
Clinicians should personalize goals for glycemic control in patients with type 2 diabetes on the basis of a discussion of benefits and harms of pharmacotherapy, patients' preferences, patients' general health and life expectancy, treatment burden, and costs of care.
Dr Amrish Mithal–  I agree that we should individualize glycemic targets for patients. All patients with diabetes do not require tight control, i.e. below 7. Several factors, as mentioned in the guidelines, have to be taken into account in deciding treatment targets. Risk of hypoglycemia is one of the most important determinants and patients with history (or greater risk) of hypoglycemia should have less stringent targets. In the Indian scene, cost remains a major determinant of treatment choice.
Recommendation -2
Clinicians should aim to achieve an HbA1clevel between 7% and 8% in most patients with type 2 diabetes.
Dr Amrish Mithal– This is highly contentious. In the young individual with newly diagnosed type 2 diabetes, without any comorbidities, it will not be right to keep HbA1c more than 7%- in fact, even 6.5% is a fair recommendation for some. Moreover, the latest ADA (and all other) guidelines also recommend HbA1c target <7% for most type 2 diabetes patients. There is substantial evidence that there is a difference in outcomes if A1c is maintained around 8% vs if it is below 7%. This is especially true of microvascular outcomes like nephropathy and retinopathy. If these targets can be achieved without concomitant hypoglycemia there is no reason not to do so. Newer anti-diabetes medications do not produce hypoglycemia and can help achieve desired targets safely. I would consider it negligent on the part of the treating physician if a target of 7 is achievable without hypoglycemia and the physician chooses to let it hover around 8%.
It is true that in the real world setting targets of 7% is often not achieved, especially in primary care practice. But setting lax targets will only further introduce treatment lethargy in treating physicians, who will easily accept higher values.This guideline is difficult to accept.
Recommendation -3
Clinicians should consider de-intensifying pharmacologic therapy in patients with type 2 diabetes who achieve HbA1clevels less than 6.5%.
Dr Amrish Mithal– This may be true for some types of patients, but those who are young, and not on 'hypoglycaemia' producing drugs, can be left at HbA1c levels between 6-6.5. There is no reason to de-escalate treatment in ALL patients who achieve values below 6.5%. If at all, I would use 6% as a threshold for de-intensifying treatment.
Recommendation -4
Clinicians should treat patients with type 2 diabetes to minimize symptoms related to hyperglycemia and avoid targeting an HbA1clevel in patients with a life expectancy less than 10 years due to advanced age (80 years or older), residence in a nursing home, or chronic conditions (such as dementia, cancer, end-stage kidney disease, or severe chronic obstructive pulmonary disease or congestive heart failure) because the harms outweigh the benefits in this population.
Dr Amrish Mithal– I broadly agree with guideline no.4. In an elderly individual with multiple comorbidities, we can keep HbA1c between 7.5-8.5. Here too, however, I disagree that the treatment should be based on symptoms alone. Such patients are particularly prone to infections and allowing indiscriminately elevated glucose levels- even if the patient is asymptomatic- is not a wise recommendation.
I am also surprised at the amount of attention garnered by these guidelines. They have made by a body of general physicians in the US- and are contrary to the recommendations of expert bodies from the same country (ADA and AACE). They seem to focus on convenience rather than hard scientific evidence. So far I have not heard Indian doctors following guidance from ACP  for any disease management. I fail to understand why these guidelines have made headlines in India. In my opinion, they should be ignored.
Dr Ambrish Mithal  (MD, DM) Padma Bhushan Awardee, B. C. Roy Awardee 2015) Member Governing Council, Indian Council of Medical Research (ICMR) – is presently the Chairman and Head of Endocrinology and Diabetes Division at Medanta, the Medicity.
[yop_poll id="1″]