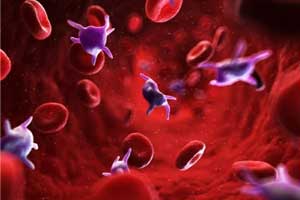 Dr.Jeffrey Lew, Hematology Oncology Service, Tripler Army Medical Center, Hawaii and colleagues have reported a rare case of Metronidazole induced severe thrombocytopenia. Metronidazole is commonly prescribed for gastric and anaerobic infections and has not been known to cause drug‐induced immune thrombocytopenia.
The case appearing in the journal Clinical Case Reports documents metronidazole as a cause of drug‐dependent antibody‐mediated platelet destruction. Drug‐induced immune thrombocytopenia (DITP) caused by drug‐dependent platelet antibody (DDabs) is a rare entity. Unlike hapten‐dependent antibodies that target covalent bonds between drug–platelet protein complexes, DDabs target hydrophobic interactions.
DITP is a process in which a drug mediates platelet destruction via the host immune system. DITP can be life‐threatening if the causative drug is not identified and promptly discontinued. There are six known mechanisms of DITP: hapten‐dependent antibody, drug‐dependent platelet antibody (DDabs), fibrin‐induced thrombocytopenia, drug‐specific antibody, autoantibody induction, and immune complex formation.
A 68‐year‐old Caucasian male was hospitalized for a temporal lobe abscess and was treated with vancomycin, metronidazole, and cefepime. After 5 days of antibiotics, the patient underwent a mastoidectomy and drainage of the abscess. He was started on Lovenox for DVT prophylaxis on day nine of antibiotics. After 12 days of antibiotic therapy, his platelet count began to decrease, dropping precipitously from 250 × 109/L to 140 × 109/L on day 13 and to 17 × 109/L on day 14 of antibiotics. The mean platelet volume was normal.
Read Also:FDA approves new treatment of Chronic thrombocytopenia ,ITP

He was asymptomatic and without the evidence of bleeding. Repeat platelet count using a citrated tube showed a platelet count of 7 × 109/L. Fibrin degradation products, fibrin d‐dimer, fibrinogen, prothrombin time (PT), partial thromboplastin time (PTT), and an international normalized ratio (INR) were within normal limits. The peripheral blood smear showed a paucity of platelets, normal platelet size, and no schistocytes. Testing for heparin‐induced thrombocytopenia (HIT) with antiheparin PF4 antibodies was negative. DITP was suspected, and antibiotics were changed to daptomycin and moxifloxacin.
Over the next 4 days, platelets rose to above 150 × 109/L. The patient's serum was sent to the Blood Center of Wisconsin, where drug DDabs strongly positive to metronidazole and weakly positive to vancomycin were detected by flow cytometry.
In patients with thrombocytopenia on metronidazole, DITP should be considered in the differential diagnosis, and the antibiotic should be discontinued. The patient should be marked as allergic to the drug, to prevent future exposures.
For reference log on to 10.1002/ccr3.1334