FDA approves new treatment of Chronic thrombocytopenia ,ITP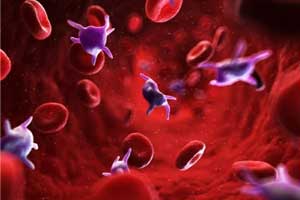 Food and Drug Administration (FDA) has approved Tavalisse (fostamatinib disodium hexahydrate) for the treatment of thrombocytopenia in adults with chronic immune thrombocytopenia (ITP) who have had insufficient response to a previous treatment.
The approval was based on data from two Phase 3 trials (Study FIT-1 and FIT-2), an open-label extension (Study FIT-3) study, and an initial proof of concept study. Efficacy was evaluated in 163 patients with ITP and safety was evaluated in >4,600 patients across other indications for which Tavalisse is being studied.
Chronic ITP is challenging to treat because the heterogeneity of the disease makes it difficult to predict how an individual patient will respond to available treatments and not all patients can find a treatment that works well for them," said James Bussel, M.D., professor emeritus of pediatrics at Weill Cornell Medicine and the principal study investigator on the FIT Phase 3 program.
For each randomized, double-blind study, patients were randomized to Tavalisse or placebo for 24 weeks according to prior splenectomy status and severity of thrombocytopenia. Patients who were unresponsive to treatment after 12 weeks, and those who completed the 24-week double-blind study were eligible to enroll in the open-label extension study.
In Study FIT-1, stable platelet response was seen in 18% of Tavalisse-treated patients vs 0% of placebo patients (P=0.03). In Study FIT-2, stable platelet response was seen in 16% of Tavalisse-treated patients vs 4% of placebo patients (P-value not statistically significant). In the open-label FIT-3 study, a prospectively defined analysis (n=44) showed 23% of patients met the criteria for stable response.
Tavalisse, an oral spleen tyrosine kinase (SYK) inhibitor, works by targeting the underlying autoimmune cause of the disease by blocking platelet destruction. Its major metabolite, R406, inhibits signal transduction of Fc-activating receptors and B-cell receptor and ultimately reduces antibody-mediated destruction of platelets.
Tavalisse will be available as 100mg and 150mg strength tablets in 60-count bottles. The product is anticipated to launch in late May of this year.
Source : Press Release