100% fruit juice a healthy beverage? No, high consumption can lead to death: JAMA Study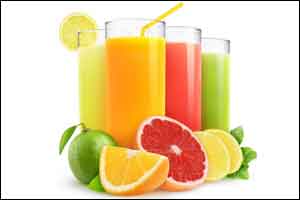 USA: Do you think a glass of juice is a healthy beverage option? Think again. A recent study published in the esteemed journal JAMA Network Open has found that not only sugar-sweetened beverages (SSBs) but 100% fruit juices are also associated with increased mortality risk.
SSBs and 100% fruit juices have almost similar nutrient content, the predominant ingredients in both of them being sugar and water. The difference is that 100% fruit juices contain some vitamins and phytonutrients that are absent from SSBs.
Sugar in SSBs is added during processing whereas sugar in 100% fruit juices has a natural occurrence, but the specific sugars they provide for the body to process are essentially the same and the biochemical response when metabolized is the same.
To inform policy and the development of dietary guidelines, it is critical to understand how beverages high in naturally occurring sugars, in addition to those high in added sugars, are associated with cardiovascular health and mortality risk. Lindsay J. Collin, Department of Epidemiology, Emory University, Atlanta, Georgia, and colleagues conducted the study to examine the association of higher consumption of sugary beverages (SSBs and 100% fruit juices), alone and in combination, with mortality risk.
This cohort study is a secondary analysis of data obtained from 30 183 participants in the Reasons for Geographic and Racial Differences in Stroke (REGARDS) study. REGARDS study examined factors contributing to the excess risk for stroke among adults living in the southeastern United States and among black US residents in general. Enrollment took place from February 2003 to October 2007, with follow-up every 6 months through 2013. The final cohort for this study consisted of 13,440 individuals aged 45 years or older from across the United States, or 49.5% of the total REGARDS sample.
Sugar-sweetened beverage and 100% fruit juice consumption was estimated using a validated food frequency questionnaire and examined using categories of consumption that align with recommended limits for added sugar intake as a percentage of total energy and 12-oz serving increments.
Also Read: High intake of fruit juice and sugar loaded beverages tied to gout
They found that:


Nearly everyone in the cohort (97.4%) reported consuming some type of sugary beverage. The mean consumption of sugary drinks accounted for 8.4% (SD, 8.3) of total daily energy intake. Of that total, SSBs (excluding fruit juice) accounted for 4.4% (SD, 6.8), and fruit juice accounted for 4% (SD, 6.8).


During the follow-up period, 1000 people died from any cause, including 168 who died from CHD-related causes.


Each additional daily 12-ounce serving of fruit juice, independent of other SSBs, was associated with a 24% increase in the risk for all-cause mortality.


Compared with the lowest intake of all sugary drinks, defined as <5% of total energy intake, the hazard ratio (HR) for coronary heart disease (CHD)-related mortality associated with a high intake, defined as ≥10% of energy consumption, was 1.44 , and for all-cause mortality, 1.14, after adjusting for socioeconomic factors, demographics, diet quality, and physical activity.


After further adjustment for total energy intake, the HR for CHD mortality was 1.31 between the highest and lowest consumers of all sugary drinks.


When sugary beverage consumption was assessed as a continuous variable, the authors found that each additional 12-ounce serving of sugary beverages was associated with an HR for CHD mortality of 1.15 and for all-cause mortality, 1.11.


When broken down according to type of drink, the HR associated with CHD mortality for each additional 12 ounces of beverage was 1.11 for SSBs and 1.28 for fruit juices.


With regard to all-cause mortality, for SSBs, the HR was 1.06, and for fruit juices, the HR was 1.24.


Also Read: High consumption of artificially sweetened beverages may lead to premature death
"In summary, the deleterious effects of SSBs are well established, and individual efforts and policy solutions are needed to reduce consumption levels. Although fruit juices may not be as deleterious as SSBs, their consumption should be moderated in children and adults, especially for individuals who wish to control their body weight. Further research is needed to examine the health risks and potential benefits of specific fruit juices," Marta Guasch-Ferré and Frank B. Hu, researchers from Boston, Massachusetts, write in an accompanying editorial.
For a detailed study follow the link: doi:10.1001/jamanetworkopen.2019.3121
Source : With inputs from JAMA Network Open�