Zilucoplan - A promising treatment for myasthenia gravis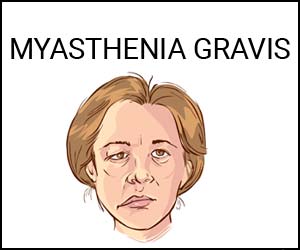 Results from a randomized, double-blind phase 2 trial show zilucoplan to be safe and effective in treating patients with generalized myasthenia gravis (gMG).
Long-term data from the open-label extension phase of the study, presented at the American Academy of Neurology (AAN) 2019 Annual Meeting showed significantly sustained responses at 24 weeks for subjects receiving the study drug at 0.3 mg/kg daily.
In a group of 44 patients, daily 0.3 mg/kg of zilucoplan significantly reduced Quantitative Myasthenia Gravis (QMG), Myasthenia Gravis Activities of Daily Living (MG-ADL), MG Composite, and 15-item Myasthenia Gravis Quality-of-Life revised scale (MGQoL15r) scores within 12 weeks.
In gMG, "autoantibodies against the acetylcholine receptor (AChR-Ab) trigger complement-mediated damage to the neuromuscular junction, leading to weakness," the researchers write.
Zilucoplan is a subcutaneously self-administered macrocyclic peptide inhibitor of complement component 5 (C5). It works by binding to and inhibiting the activation of C5, which prevents the formation of the membrane attack complex (AChR-Ab).
For the three-arm study, a group of 44 patients with mean baseline QMG scores ranging from 18.7 to 19.1 were randomized to receive placebo or zilucoplan at doses of 0.1 mg/kg or 0.3 mg/kg.
Disease duration in participants ranged from near zero to 20 years. Mean age was 48-55 in the three groups; most were white. Markedly fewer patients in the placebo group were male (27%) compared to the low- and high-dose zilucoplan arms (47% and 71%, respectively).
Key Findings:


Results showed a significantly greater mean reduction from baseline to Week 12 on QMG scores for the 0.3 mg/kg group vs placebo, as well as a mean reduction from baseline of 3.4 points on MG-ADL scores, which was also significantly greater than placebo.


Compared with placebo, the group also showed "clinically meaningful" improvements in MG composite and MG quality of life scores at week 12.


the 0.3 mg/kg group showed a complement inhibition rate of about 97%, and the 0.1 mg/kg group showed an inhibition rate of about 88%.


Adverse events (AEs) occurred in 12 patients in the 0.3 mg/kg group, 15 in the 0.1 mg/kg group, and 12 in the placebo group.


Treatment-related AEs occurred in 3, 8, and 3 members of each group, respectively, and serious AEs occurred in 5, 0, and 3 members of each group.


The most common treatment-related AEs were injection-site reactions (in 3, 4, and 3 patients, respectively). AEs that were more common with zilucoplan than with placebo were nausea (in 2, 2, and 0 patients) and headache (in 2, 4, and 1 patient).


About Myasthenia Gravis
Generalized myasthenia gravis is an autoimmune disorder in which antibodies against acetylcholine receptors block signals transmitted from nerves to muscles. It causes muscle weakness that can affect the respiratory system and be debilitating. Localized or general muscle weakness is the predominant symptom and is induced by the antibodies.