Ultrasound okay for neurodevelopmental surveillance of newborns exposed to Zika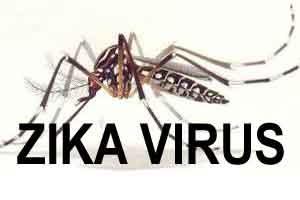 USA: Infants without congenital Zika syndrome (CZS) exposed to the Zika virus (ZIKV) in the womb are at a higher risk for abnormal neurodevelopmental outcomes in the first 18 months of life, according to a recent study. Such infants otherwise showed normal brain imaging and head circumference at birth but their ultrasound predicts long-term risk.
The study, published in the journal JAMA Pediatrics, underscores the importance of long-term neurodevelopmental surveillance of all newborns with ZIKV exposure. This can be done by the use of ultrasound and MRI for detecting children who might be at increased risk.
Sarah B. Mulkey, Children's National Hospital, Washington, DC, and colleagues investigate whether infants without CZS but who were exposed to ZIKV in utero have normal neurodevelopmental outcomes until 18 months of age.
"These infants (exposed to in utero ZIKV without CZA who are at higher risk of neurodevelopmental outcomes) had no evidence of Zika deficits or microcephaly at birth. Neurodevelopmental deficits, including declines in mobility and social cognition, emerged in their first year of life even as their head circumference remained normal," says Dr. Mulkey. "About one-third of these newborns who underwent postnatal head ultrasound had nonspecific imaging results, which we believe are the first published results finding a link between subtle brain injuries and impaired neuromotor development in Zika-exposed children."
The study enrolled a group of pregnant women with ZIKV in Atlántico Department, Colombia, and in Washington, DC. With this cohort, the researchers performed a longitudinal study of infant neurodevelopment. Infants born between August 1, 2016, and November 30, 2017, were included if they were live born, had normal fetal brain findings on magnetic resonance imaging and ultrasonography, were normocephalic at birth, and had normal examination results without clinical evidence of CZS. Seventy-seven infants born in Colombia, but 0 infants born in the United States, met the inclusion criteria
Infant development was assessed by the Warner Initial Developmental Evaluation of Adaptive and Functional Skills (WIDEA) and the Alberta Infant Motor Scale (AIMS) at 1 or 2-time points between 4 and 18 months of age.
Read Also: New Zika vaccine may protect both mom and fetus
Key findings of the study include:


Of the 77 Colombian infants included in this cohort study, 70 (91%) had no CZS and underwent neurodevelopmental assessments.


Forty infants (57%) were evaluated between 4 and 8 months of age at a median (interquartile range age of 5.9 months, and 60 (86%) underwent assessment between 9 and 18 months of age at a median age of 13.0 months.


The WIDEA total score and self-care domain score showed curvilinear associations with age.


Other domain scores showed linear declines with increasing age based on coefficients for communication (–0.036), social cognition (–0.10), and mobility (–0.14).


The AIMS scores were similar to the normative sample over time.


Nineteen of 57 infants (33%) who underwent postnatal cranial ultrasonography had a nonspecific, mild finding.


No difference was found in the decline of WIDEA z scores between infants with and without cranial ultrasonography findings except for a complex interactive relationship involving the social cognition domain.


The AIMS z scores were lower in infants with nonspecific cranial ultrasonography findings (–0.49).


Read Also: Perinatal Dengue infection increases risk of Zika induced birth defects in offspring
"To our knowledge, this study is the first to show that these nonspecific imaging findings may indicate subtle brain injury potentially associated with impaired neurological development," the authors wrote.
"Normally, neurodevelopment in infants and toddlers continues for years, building a sturdy neural network that they later use to carry out complex neurologic and cognitive functions as children enter school," Dr. Mulkey adds. "Our findings underscore the recommendations by the Centers for Disease Control and Prevention that all infants exposed to Zika in the womb undergo long-term follow-up, providing an opportunity to intervene earlier."
The study, "Neurodevelopmental Abnormalities in Children With In Utero Zika Virus Exposure Without Congenital Zika Syndrome," is published in the journal JAMA Pediatrics.
Source : With inputs from JAMA Pediatrics