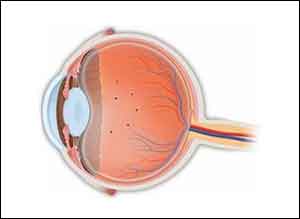 Chirag P. Shah et al. in a  randomized  trial tried to evaluate whether YAG laser vitreolysis was safe and effective in treating patients with symptomatic vitreous floaters in the context of a posterior vitreous detachment?
They found in a  randomized clinical trial that included 52 patients randomized to receive YAG laser vitreolysis vs sham laser vitreolysis, the YAG laser group reported greater improvement in symptoms than the sham group. No clinically relevant adverse events were identified.
The results of the trial suggest that YAG laser vitreolysis can improve visual symptoms associated with symptomatic vitreous floaters, but larger studies with longer durations are needed to validate these findings and expand the ability to identify adverse events.The results were published in the September issue of JAMA Ophthalmology.
YAG laser vitreolysis subjectively improved Weiss ring–related symptoms and objectively improved Weiss ring appearance. Greater confidence in these outcomes may result from larger confirmatory studies of longer duration. Limitations of the study are small sample size and short follow-up period.
Posterior vitreous detachment occurs in 65% of patients aged 65 years or older. It may be associated with accumulation of fibrous tissue into a Weiss ring, which hovers above the optic nerve and casts shadows onto the retina, producing large floaters in the visual field.Management options for patients whose floaters affect quality of life are observation and education, single-incision pars plana vitrectomy, or YAG laser vitreolysis. Very few ophthalmologists prefer to perform YAG vitreolysis and therefore studies regarding these are limited.
The authors agreed that there was a  need of  at least one large multicentered clinical trial powered to determine the rates of known adverse effects of YAG vitreolysis, such as retinal detachment, cataract formation, glaucoma, and retinal damage. The evolution of YAG vitreolysis has been unusual, with no clinical trial data preceding the performance of this procedure by ophthalmologists. The lack of data, coupled with the commercialization of the procedure, has led to the controversy surrounding YAG vitreolysis. More studies will help us better understand this procedure
For more details click on the link :
https://jamanetwork.com/journals/jamaophthalmology/article-abstract/2643488