................................ Advertisement ................................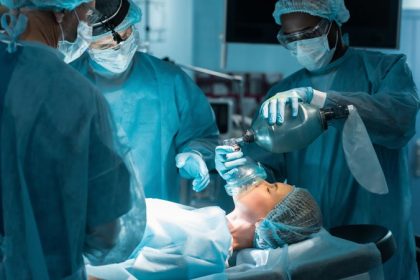 The neck x-ray of an active 72 years old revealed his dentures lodged in his larynx, according to a case recently published in the BMJ Case Reports. His dentures remained lodged in larynx for 7 days after general anesthesia.
According to the case published in the journal, the patient was presented to the accident and emergency department (A&E) with odynophagia, dysphagia and hemoptysis 6 days after excision of a benign abdominal wall lump. He had not been able to swallow any solid food since his general anesthetic.
He presented to A&E 2 days later with worsening symptoms and was feeling short of breath, particularly when lying down. His chest X-ray showed some hazy opacification in the left hemithorax. The patient was admitted under the medics for aspiration pneumonia, who referred him to ENT on initial clerking.
................................ Advertisement ................................
Flexible nasendoscopy examination revealed a metallic semicircular object overlaying the vocal cords and completely obstructing their view. The object was pressed against the epiglottis and had caused erythema and swelling with evidence of erosion that was likely the cause of the hemoptysis.  On explaining this to the patient, he revealed that his dentures had been lost during his general surgery admission 8 days earlier and consisted of a metallic roof plate and three front teeth. Lateral and anteroposterior neck X-rays revealed this to be the foreign body. He was taken to the emergency theatre where the dentures were removed.
................................ Advertisement ................................
Foreign bodies in the upper aerodigestive tract (UADT) can pose a diagnostic challenge, as the delayed symptoms may mimic other common conditions like asthma, recurrent pneumonia, upper respiratory tract infection, and persistent cough. This case raises questions about perioperative care in patients with dentures, diagnostic decision-making in the emergency care setting and postoperative care after delayed removal of foreign bodies from the upper aerodigestive tract.
Key messages of this case study
Presence of any dental prosthetics should be clearly documented before and after any procedure, and all members of the theatre team should be aware of the perioperative plan for them.

Do not be distracted by positive findings on investigations.

High-risk foreign bodies in the upper aerodigestive tract, such as those that have been present for over 24 hours, should be closely monitored for complications.
For further details, click on the link
http://dx.doi.org/10.1136/bcr-2019-230055
Deepanjana Sarkar joined Medical Dialogues as a Desk Editor in 2019 for Speciality Medical Dialogues. She has been working as a medical content writer from 2 years and has covered several medical specialties including Cardiac Sciences, Dentistry, Diabetes and Endo, Diagnostics, ENT, Gastroenterology, Oncology, and Radiology. She has completed her Master's in Technology (M.Tech) in biotechnology from Kalinga Institute of Industrial Technology, Bhubaneswar. She can be contacted at deepanjana@medicaldialogues.in. Contact no. 011-43720751
................................ Advertisement ................................