World's first "smart condom" which can rate your performance during Sex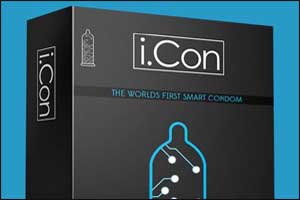 A British firm has developed world's first "smart condom" which can collect your intimate data during sex and even can rate your performance during Sex. The device is a small band fitted around the bottom of a man's willy and wearers will still need to strap on a normal condom to get full protection, The Metro reported.
The manufacturing firm has also released the first photos of its Fitbit-style condom named as i.Con Smart Condom, that measures a man's performance in bed. The smart condom is waterproof and "extraordinarily flexible to ensure maximum comfort for all sizes". It even lights up to provide illumination for both partners' nether regions, the report claimed.The high-tech jimmy jacket looks like a small rubber bracelet which logs data during sex and sends it to the user's smartphone.The band slides onto the base of the penis and is used with a normal condom for protection
The reusable, one-size-fits-all band measures the number of calories burned during sex, the speed of a man's thrusts and how long he lasts, lead engineer Adam Levers told the UK Metro.
"It's here and it's beautiful. We wanted the i.Conto look refined, non-intrusive and lightweight – the finished article is nothing short of any of those things," he said. "There is absolutely no hindrance to the user and that was our main goal."
The stretchable shaft gadget also detects STDs and is "flexible to ensure maximum comfort for all sizes," according to British Condoms, the firm behind the condom."It's truly the next step in wearable tech and we believe we have pioneered a product that will not only bring an extra element of fun into the bedroom but will also help indicate potential STI's present as well as prevent condom slippage," Simmons said.
The cost of the gadget is $74 and it is expected to hit the market in January 2018.It is also available for preorder on the company website.
Source : Press Release