World's first: John Hopkins Doctors perform total penis and scrotum transplant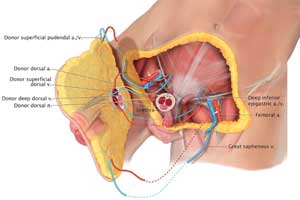 After 14 hours of comprehensive surgery by the dedicated team of Johns Hopkins reconstructive surgery, a veteran of the US Armed Forces has a new, transplanted penis and scrotum. With this success, US surgeons have performed the world's first penis and scrotum transplant at Johns Hopkins Hospital.
The case was that of an Army veteran who was severely injured several years again an IED blast in Afghanistan.
A team of eleven surgeons from the John's Hopkins School of Medicine worked for 14 hours on March 26, to transplant an entire penis, scrotum, and parts on an abdominal wall from a deceased patient to this veteran. It was the most extensive penis transplant ever performed, requiring the transfer of skin, muscles, tendons, nerves, bone, and blood vessels.
This type of transplant, where a body part or tissue is transferred from one individual to another, is called vascularized composite allotransplantation. The surgery involves transplanting skin, muscles and tendons, nerves, bone and blood vessels. As with any transplant surgery, tissue rejection is a concern. The patient is put on a regimen of immunosuppressive drugs to prevent rejection. Lee's team has developed an immune modulation protocol aimed at minimizing the number of these drugs needed to prevent rejection. The patient has recovered and is scheduled to be released this week, according to a press release from the school.
We are hopeful that this transplant will help restore near-normal urinary and sexual functions for this young man," says,W.P Andrew Lee,M.D, professor and director of plastic and reconstructive surgery at the Johns Hopkins University School of Medicine.
Other solutions included penile reconstruction, which would have limited the patient's sexual functioning. Achieving erection without a transplant would have required the use of a prosthesis, which would have increased the risk of infection.
The donor was not identified, nor was his cause of death, but in a statement, his family praised the sergeant's service to his country.
This is not the first achievement made by the Johns Hopkins reconstructive surgery team which has been credited earlier for performing the country's first bilateral arm transplant in a wounded warrior.
Source : Press Release